Forever My Hero
March 19, 2013
What is a hero? A hero is someone who is helpful, optimistic, independent, resilient, etc. My mom was born in September 2nd, 1970. When she was a child, she had to babysit some of her youngest siblings. When she was a teenager she had to drop out of school and start working to help my grandparents with the bills. Now that she is an adult, she works hard to get me and my siblings a roof to stay in and food to eat. My mom is and always be my hero.

When my mom was a child, she was very helpful. My mom was helpful because she helped my grandparents with her youngest siblings. When my grandparents would work, my mom had to babysit her siblings. My mom had to cook for them, take care of them, take them to school, shower them, and much more. I think my mom's childhood was hard because she didn't have time to go play outside with her friends because she had to take care of her siblings. Also my mom couldn't go play outside because she had to do all of the house chores. I can kind of connect with my mom because when I was nine years old I had to take care of my grandmother because she just had surgery and my mom was working so I had to cook and do all the chores for her.

When my mom was on her teen years she was optimistic. When my mom was going to barely go to middle school she had to drop out of school and start working because she needed to help my grandparents pay bills. She stayed optimistic because even when she had to work and not have fun she stayed positive and she never stopped working. Sometimes I imagine myself in her shoes and I know I would have given up. I would stay mad all the time and very tired. For me I think dropping out of school is very bad because then when you grow up you're not going to have a good paying job, and sometimes you're not going be able to help your kids with homework.


My mom is very independent and resilient. She is independent because she never needed help from a man to help her raise me and my two siblings, and paying bills. My mom is also resilient because even when it's hard to raise three kids by your own and pay bills, she overcame that and worked very hard. She is still overcoming raising three kids by working hard and trying to get me and my sibling what we need and sometimes want. She is still very independent because she still doesn't need help from a man to help her raise us and she doesn't rely on anybody. That's why I'm working hard in school to be somebody in life and not have to struggle like my mom did and still does.

My mom will always be remembered by me and my family because of what she did. She has always worked really hard to keep her family in a roof and have food to eat. When I grow up I'm going to be a suicide counselor or a doctor to get good pay. I'm saying this because she will be remembered by me treating her like a queen. I'm going to tell her to retire, I'm going to buy her a house, a car, and give her whatever she wants and needs because she did the same to me. She is and always will be my hero.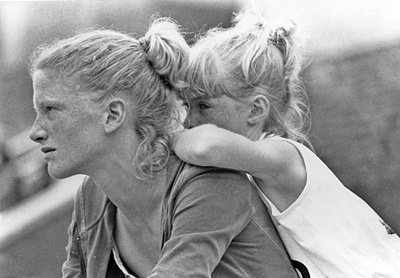 © Felicia F, Marlow, OK