Christy H.
MAG
Whendoes a person's life truly end? A doctor would say when the heart stops. But justbecause a person is no longer with us, does that mean that he or she can nolonger give us love or hope? This leads to the question: does a person's heartever truly reach an end?

Recalling my freshman year and first year ofdrama group, I remember the people I met, and how I soon felt like they all werefamily. One whom I greatly respected was Christy Hauser, mainly because of herunbelievable ambition to help people.

At Christmas I participated in apresent-wrapping party for children who would otherwise not have gifts. Christyorganized this and was so persuasive in motivating other students. She was only15, but found time to help others, earn outstanding grades, and manage themake-up department for our drama group. Realizing that there are few teenagerslike this, I felt the utmost appreciation for her accomplishments.

Thenext year I was astounded to hear that through Christy's efforts, the dramadepartment was going to try to raise $90,000 for an alumna named Robin who wassuffering from cystic fibrosis. The most amazing part of her decision to helpRobin was that Christy had never even met her! At our first drama meeting Christygave everyone a piece of paper and asked us to write to talk-show host RosieO'Donnell to try to gain her support. Christy received over 100 letters, but thatwasn't enough. She told us we needed to be persistent and keep writing. Christyput all the letters in en-velopes, stamped them, and made sure they weresent.

Christy knew, though, that we couldn't rely on Rosie to just give us$90,000, so she planned her next project: a drama-run car hop serving hot dogsand chips. Adding to her phenomenal "To Do List," Christy also madearrangements for anyone in the drama department to help at Habitat for Humanity,which builds homes for less fortunate people.

Then one cold evening latein October I gave one of my closest drama friends, Emily, a call to see if shewanted to do something. I was disturbed and surprised when she answered the phonecrying. She explained that Christy Hauser had died in a car accident thatevening. I had left rehearsal too early to hear about the accident. With thephone still to my ear, I stood motionless as I remembered all the miraculousevents she had organized. And then my thoughts changed to anger and frustrationas I tried to figure out why a tragedy like that would happen to such a kindperson.

One thing loomed like a storm cloud - I realized I had neverreally known Christy as a person. I knew her only as Christy Hauser, themagnificent person who was so ambitious and had a heart bigger than any, but Inever was close enough to that heart to understand why it beat so passionately,never stopping for a moment.

Slowly arriving at the epiphany that I neverwould know her, I did realize something that next breezy morning as I met with mygiant family on the stage of our high school. As we shared stories, mourned,comforted and were with each other, I looked into those eyes around me and wascomforted by the fact that despite losing a great person, Christy's heart was toostrong to ever truly stop giving.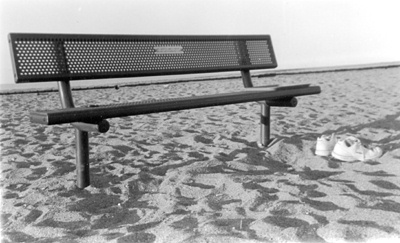 © Anonymous