Businessman James Paolucci
MAG
On February 20, 2003 at 11 p.m., a fire broke out at the Station Club in Rhode Island. Here in New England, we are still grieving the biggest, deadliest tragedy ever to strike that state. It killed 100 people - mothers, fathers, sons and daughters. But as in any tragedy, heroes were there to help.

One of those heroes is James Paolucci, owner of The Cowesett Inn, a cozy place across from the Station. As soon as word broke that the club was on fire, James and his customers were more than willing to help. The inn immediately turned into a hospital. Burn victims got medical attention in the lounge area, and Rhode Island officials held meetings in the restaurant. As if that were not enough, victims' families, friends, firefighters, paramedics and other rescue workers stayed there, compliments of James.

James's heroic efforts were awarded a citation and recognized by Governor Don Carcieri. In a Kent County Times article, Carcieri stated that "The Cowesett Inn's willingness to accommodate victims and rescuers was an exceptional effort that certainly contributed to the success of the life-saving efforts under way that night."

Just as the firefighters were heroes on 9/11, Paolucci and his Cowesett Inn were heroes in Rhode Island's biggest tragedy, and may have saved many lives.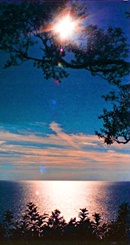 © Anonymous