My Grandfather's Journey
June 11, 2012
One's hero is a person of their own definition. Like a hero to a child could be a superhero like superman or batman. But to me my hero is my grandfather. He was an amazing person with great patience, courage, and ability to adapt to anything. And these could be some of the small characteristics of my definition of a hero.

During my grandfather's childhood he was a mindful kid. From my mother's point of view of my grandfather she said," He was an eager learner, ready to do anything." The story of when he was a child starts of as how he wanted to go to school. And during his school he wanted to be at the best level he could be. Since at the time schooling was very hard to enroll in and was very expensive. So he learned as much as he could during his time he can. And in my opinion he was a very smart person. That is what made him mindful to me.

At the time of his young adulthood. My grandfather was now a college student but then the war broke out against the Japanese. This was a major turning point in his life. He was a peaceful man but the draft into the army was real challenge for him. But like a said before he could adapt to anything. So he accepted the fact that he had to do what was right.

Now a soldier and a hardcore fighting machine. At this point he has shown a great amount of courage. By the way he fought and not showing fear when he was sure he didn't know what to do. I think this I where my grandfather most of his thinking since he didn't know if was going to live to see tomorrow. So that was his place to challenge himself to keep his self-peace of mind.

Now after the war he goes and finishes his schooling. While that he meets my grandmother. But they won't tell me much about what happened and no one really knows either it. But after school he becomes a teacher. Then after a few years went to become a politician. But between that gap he became a father. But after a long couple of years he starts filing papers so that his children can come here to the United States. My mother was the first to come here. But about five years later my grandfather passed away due to old age. And about at the same time I came home to the Philippines and there is where I saw what a big impact he had done for the people. The funeral was about 2 days long and there is where I really learned his amazing achievements. These are just some I remember from that day: veteran, politician, father, and many more. He was an ideal hero in my eyes and to many others. Remembering one's legacy is never finished.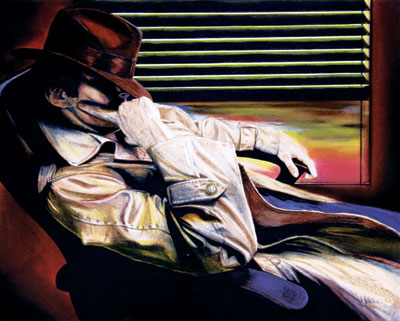 © Mick G., Bellevue, NE