Educator of the Year
April 4, 2019
Each year at North Lake School, I participated in the Presidential Fitness Tests with Mr. Yde. We performed the 100 yard dash, pullups, and the mile run. Every year the goal was to be in the 90th percentile for each event, so I would proudly achieve the goal.
At first this was difficult. In fifth grade, I remember my shoe falling off during the shuttle-run, resulting in an embarrassing and poor run. However, each year I would improve and eventually place in the 90th percentile. By the time I was in eighth grade, I knew I wanted to wint the award in the last year possible, and Mr. Yde knew too.
That year I crushed it on all of the events except one—so I knew it was possible for me to get the award. But I failed on the 600 yard dash.
When I asked Mr. Yde about trying again, he was happy I had a goal and was taking the fitness tests seriously, especially in a year where many of my friends and classmates blew it off. He stayed after school with me so I could try again.
I ran it over and over again, but I failed multiple times. But on my fourth attempt, I finally got it. I remember the smile on his face when he told me my time and that I got it. But I was even more happy to finally succeed. It felt like I crossed the finish line at a marathon.
Earning the Presidential Fitness Award may seem like a silly goal, but I didn't think so. When I received the award, it was a confidence booster, something I still remember today. I grateful for the time and patience of Mr. Yde who helped me to achieve my goal. His support gave me the perseverance to fight through because after the 2nd time I failed, I almost thought I never would succeed. But after I did succeed, I knew in the future I was able to achieve my goals if I was determined.
Mr. Yde took fitness seriously at North Lake, because he wanted everyone to be healthy. The goal of his gym classes were to create a love for exercise that lasts longer than their time at North Lake. This is definitely something I got out of Mr. Yde's class, and still have today. I play football for Arrowhead and working out is something I regularly do. During the weightlifting unit, he would want us to know the major muscles and how to exercise them, which I still remember today.
As a gym teacher for all grades at the K-8 school, he would find ways to get everyone involved. I remember Mr. Yde would run the North Lake School Olympics, which became one of our school traditions. Teams would consist of all grades, competing at their age levels. Events consisted of a wide range, from shotput to the shoe toss. I thought it was awesome to be a part of a team with all grades, especially with the grades I would not normally see. Another thing Mr. Yde would organize was a ski trip three times a year. I enjoyed these ski trips as they gave me a chance to ski with my friends at Sunburst, Cascade, and Little Switzerland.
Many times when I was at lunch, Mr. Yde would come up behind me or one of my friends, squeeze our shoulders, and say "Men and I mean men" to us all. I remember this because I found this funny, but also this is part of the reason why I like Mr. Yde so much—he is one of the coolest and nicest teachers. Having him as a gym teacher almost every year until eighth grade gave me the chance to get to know Mr. Yde. I am grateful to have had Mr. Yde as a gym teacher, and that he helped me complete my goal. Thank you, Mr. Yde.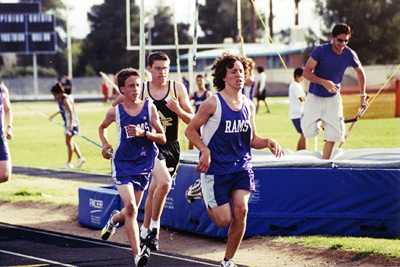 © Andy G., Phoenix, AZ