Shelly O'Foran • Creative Writing • Freedom High School
MAG
March 31, 2019
For some reason, I have always loved to write. In the easiest and most difficult times, I have used writing as a means of expression and enjoyment. For me, the most trying part of writing is not brainstorming, word vomiting, or editing – it is revising. In two months, my teacher Dr. O'Foran (or The O'Foranator as she is sometimes called) has taught me the most important lesson about writing: successful writing comes only from pushing one's self as far as possible.
In this second semester of my junior year, I found myself entranced by my somehow wise and yet occasionally juvenile creative writing teacher as she walked about the class wearing a cape, light-up sneakers, and decorated top hat. Stories of her eccentric and plot-devising Aunt filled our heads as we dived into the strange and unusual world of Dr. O'Foran. I occasionally wondered if she had come to life from a fictional novel, as she was so unlike any teacher I knew. By her instructions, we embarked on our first assignment (either writing in prose or poetry). As we worked in class I began to notice my teacher's unique teaching methods.
Dr. O'Foran could have sat at her desk grading papers and essays. She could have been reading a poetry book. She could have walked around silently, peering at our work. But she did not. Instead, she reached out to the students who were behind, or those she wanted to encourage, or whose writing voice she was particularly interested in. Instead of waiting for students to come to her, she went to them.
I remember one student in particular who had failed to turn in the assigned homework on time. Any conventional teacher I know would immediately deduct points and not question the situation surrounding the student's missing assignment. But not so with Dr. O'Foran. Instead of assuming this student was a slacker or apathetic toward school, she decided to address the issue with this student personally. She quickly discovered that the missing assignment was not due to laziness or apathy, but to a stressful move to our high school.
Every time something of this nature occurs, I hear Dr. O'Foran say, "I need to get to know how you work and why you are here so I can best help you." As every good teacher should, she pushes us to be the best students and writers we can. Yet she does not view her students as a school of fish with the same demeanor and values and goals, but as a multi-colored, diverse group of people. If a student merely wants to pass the class and suddenly turns in B-worthy work, she is not disappointed, but proud of her student. If a student is missing a paragraph due to family problems at home, she provides second chances. This teacher is one that truly treats each of her students as people, not as machines pumping out perfect papers. She takes into account our motivations, our goals, our dreams, and she changes her tactics to meet our needs. I have never met a more invested teacher.
When the inevitable "Why are you here?" question arose, I informed my teacher that I was taking up one of her seats to pass with flying colors and to carve out time to write in the busy days of junior year. It seems I have never been held to my words more than in her Creative Writing class. As I submitted my edited work (a lengthy poem on bottled-up emotions) I impatiently awaited my teacher's thoughtful comments. When I later opened the document, I received a mixture of compliments and suggested corrections. I resubmitted the document, having made a few corrections, hoping I had perfected my work. This was where I was mistaken.
The next comments I received were more suggested changes. Feedback like "this rhyme still feels a little off" and "do you really need this word?" drew my eye to the comments off to the side. I was frustrated. Had I not followed many of her suggestions already? Were there not rhymes I had already changed? Had I not replaced words for a better flow? Had I not deleted and added and rearranged? I was used to pats on the back for my writing, teachers praising my work and descriptive imagery. But this was different. This was a teacher who viewed me as a person, not a machine. She knew what I was capable of, and why I was here. My work may have been excellent for another student with different goals, but it wasn't for me.
I found myself making more changes and replacing more words. What I discovered was a piece of work I felt proud of. As I read over each stanza, I found clearness of thought, rhyming that worked, and no interruptions to flow. The changes I had begrudgingly made transformed my piece from good to excellent in my own eyes. I was proud of my poem, especially after the hard work I had put in, thanks to my teacher who pushed me to produce the work she knew I was capable of creating.
Through Creative Writing, I experienced first hand a method of teaching I have come to support wholeheartedly – refusing to take the classroom, assignments, and students at face value. Dr. O'Foran has made me feel more appreciated, not just as a student, but as a human, than I ever have by a teacher in my high school career. As I enter college next year to become a teacher myself, I aspire to invest in my students and push them to produce the best work they personally can, just as I have experienced in the hands of Dr. O'Foran.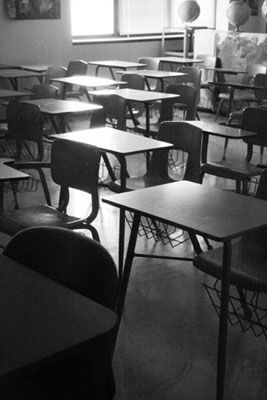 © Sean C., Princeton, IL