Words of Wisdom
March 28, 2019
Kristy Basara
Skyline Middle School
Wilmington, Delaware
Guidance Counselor
My seventh grade year was tough not because of school, but what was happening outside of school. I would walk through the blue front double-doors and enter the rectangular brick building every day, head hung low and eyes opened to slits. Bitterness and angst were weighing me down at the pit of my stomach, and nothing could make them cease. Over the summer going into this year, I slipped into a depression relapse, and I was unable to claw my way out of the void which had encompassed me in endless darkness, consumed by unwanted solitude. I had always been an independent person who savored time to myself, but after losing a friend that summer and facing the constant obstacles of adolescence, all I wanted was another soul to pull me through. I walked through the doors of my middle school alone for the first time in seventh grade, and I knew it would remain that way for a long time. And it did . . . until I acquainted myself with two girls in my grade—whom we will refer to as Casey and Jane—and they introduced me to a teacher who is special to me to this day.
Ms. Basara was the school guidance counselor. When Casey and Jane approached me in the cafeteria one day asking if I wanted to sit with them rather than by myself, we became friends. They invited me to accompany them in Ms. Basara's office during lunch every day, and although I was hesitant because I did not want to intrude, I promptly accepted.
I had never gone to Ms. Basara's office before—I was deteriorating mentally, but I did not want people to know that—but after my first time having lunch there, I slowly eased into the atmosphere. It was a small, quiet room with pamphlets about depression pinned across the walls with thumbtacks. Ms. Basara would work at her desk across from the three of us at our square wooden table. Of course, I enjoyed chatting and laughing with Casey and Jane, but it was the times when the counselor would chime in to our exchanges that made it complete. Ms. Basara talked and occasionally laughed with us, and since her job at the school was to help tranquilize teenage minds, she offered words that resonated with me throughout my depressive state. Our lunch visits to her room were not scheduled sessions, but she was calm and patient with us as if they had been. Her room was the one place in the school that I felt safe and cared for, thanks to Casey, Jane, and Ms. Basara; and it was one of the hands that had driven me out of my bleak mind and put me on the road to recovery.
Halfway through the year, I decided to transfer to another school for a clean slate, hoping to regain a lucid perception of the world around me once and for all. I despised the thought of no longer paying visits to Ms. Basara's room, but my family and I had agreed that it was time to change my environment. Jane was absent on my last day, but I met Casey in the counselor's office one last time. It had taken everything I had not to let a single tear slip, but toward the last few moments, I had no strength left. I gave Casey a hug, and after she left to return to class, I went over to Ms. Basara and did likewise.
"Thank you for everything," I murmured, my voice thick with tears.
"Oh, of course . . . We'll miss you." She patted my back, trying to comfort me. I smiled at her before leaving her room, and that was the last time I would ever glimpse at it again.
I never had the chance to tell Ms. Basara how much her company and words of wisdom meant to me. My final thanks to her hardly scratched the surface of the impact she had during my melancholia. I did not want to be too sappy or accidentally reveal how torn up I had been on the inside for the past year—I used to fear that people would think less of me if I did—but, looking back, she diverted me from my desolation by being somebody I could talk to, and I could not be more grateful. I still miss going to her office every day for lunch with Casey and Jane, but those days are long behind me, and now I have all of the fond memories to reflect on whenever I am feeling down.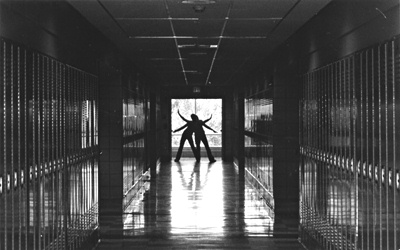 © Sheera G., Marblehead, MA