Musician Jessica Harp
MAG
Jessica Harp is a singer-songwriter born and raised in Kansas City. She is one half of the Wreckers (with Michelle Branch), and just finished a cross-country tour with her. I spoke to her about writing love songs when she was eight, Kelly Clarkson, and being a barbeque traitor.



You've toured with Michelle Branch; do you remember the first time you performed with her?

We've been friends for five years and met when we were just teenagers with websites promoting our independent records. She went on to be signed to Maverick and when I wasn't busy with my own stuff, I'd go out on the road with her. In the beginning [it was] just to hang out, but then I started singing backup for her. We'd always written together and loved singing, too, so we decided to start a band.



You started writing songs at 13. Do you remember what your first one was about?

I actually still have the lyrics from my first songs from when I was seven or eight.



Ebay!

Exactly! I don't really know what they were about. My imagination of what love was. I was a hopeless romantic even at eight. [Laughs]



Do you have a certain process? Do you do lyrics first?

When I first started writing, before I learned how to play guitar, I was definitely more about lyrics. These days it varies. Sometimes, I'll sit down and just play the guitar, and find a melody I like. Occasionally, I'll have stockpiles of lyrics.



Do you have any musical guilty pleasures?

Avril Lavigne's latest record I really love. I actually love Kelly Clarkson's new stuff as well.



Lavigne actually co-wrote some of that. You can hear it, too ...

Definitely. Living in Nashville, something I really want to get into is writing for other people.



Who would you want to write for?

I have some songs that would be pretty decent for Kelly Clarkson or Avril Lavigne.



You were born in Kansas City ...

Born and raised.

The most important Kansas City question: Favorite barbeque restaurant?

What's funny is since I've spent a lot of time in Tennessee, I've got a lot of friends in Memphis. I have to say after growing up on Kansas City barbeque, Memphis barbeque kicks Kansas City's butt. I might be a traitor, but it does.



This was going so well. What happened?

You're gonna have to try Memphis barbeque sometime. I think you'll agree with me. I never thought I'd be a traitor. The barbeque sauce down here is sweeter and I like the sweeter sauce. KC's is more bitter.



I'm amazed. I just thought you'd represent the locals ...

I know. However, I'm still loyal to the Chiefs. The Titans are my new team, but I will always be loyal to the Chiefs.



Describe yourself in three words.

I'm never good at these questions. I always sit here and try to come up with something clever. Let's see, I'm loyal, goofy and curious.



I read that your album might be out on Maverick at some point this year.

The Wreckers' album will come out on Maverick late this year or early next year. I'm currently in the studio recording my solo record.



What I like about your music is that it works on a lot of levels.

Believe it or not, that was actually a problem for a long time. When I was first starting out, the labels were like "What do we do with you?"



You've got a lot of bases covered. You've got a hardcore fan base, too.

I've got crazy, awesome fans. I don't think of them as fans, they're my pals.



What's been your craziest fan experience?

They don't do crazy stuff. They're just so sweet. The whole time I was out on the road, they would send me letters and stuffed animals; little things to make me smile during the day.



What's the best gift you've ever gotten from a fan?

My whole message board pooled together for my Christmas present. It was a Simon Card, a gift certificate that you can spend anywhere. It was an insane amount. That was really, really sweet. They all sent me personalized cards and letters. That was a really good Christmas gift.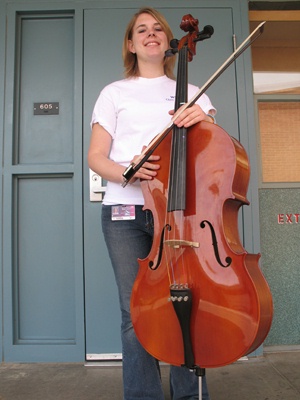 © Anonymous