Choreographer/Actor, Lane Napper
July 29, 2011
The name Lane Napper is well known among fans of Dan Schneider's hit Nickelodeon series. Whether you know him as Lane Alexander from Victorious or as Ernie, Sam's former dance coach, on iCarly, fans recognize him anywhere. And he's not only known for his acting skills; he is also one of the most sought after dance teachers in America.

I was recently given the opportunity to interview Mr. Napper for Teen Ink.

* * *

RH- When did you first become interested in the entertainment arts?

LN- I was raised in Woodbridge, VA. As a boy, I had asthma very badly so I spent a lot of time in the hospital or at home in bed. I found comfort in television. The shows I would watch would help me escape the pain and discomfort I was feeling...if only for a little while. The more I watched, the more I tried imitating the actors. When I started getting laughs from my friends and family, I was hooked.

When it came to dancing...it was the first time I saw Gene Kelly dance on television. I couldn't understand how he made those sounds come out of his shoes that way. I wanted to learn how he did it. The more I started studying musicals - I knew I wanted to be a part of it.

RH- Explain the process of choreographing a scene from the start to curtain call.

LN- For me, the first thing you have to understand as a choreographer is what the creator of the piece is trying to relay to his audience. After that, you try to come up with movements that fit the story line. When these two things connect, I feel you have a successful scene.

RH- What is the difference in choreographing a scene for stage as opposed to film?

LN- For stage, you're choreographing for LENGTH; for television, it's for DEPTH. For either one, it's the choreographer's job to try to make the talent shine as much as possible. Sometimes this can be very challenging; especially if the talent isn't a dancer or a mover. A good choreographer will do whatever they can to make it happen.

RH- What was it like working with Jennette McCurdy on "iWas a Pageant Girl?"

LN- I am amazed that people still ask me about that. No matter where I am in the world, someone will still approach me and say that they remember me as "Ernie" (Sam's former Dance Teacher in the iCarly episode "iWas a Pageant Girl") and what it was like working with her.

To answer your question...one word...AMAZING! I am in awe of Jennette McCurdy's talent. People forget that Jennette had to learn her lines for the episode during the day then meet with me to rehearse in the evening. She learned that whole routine in just a few hours. She also had to perform it during the run-through for the producers of the show. I will never forget what that episode did for me professionally and personally. I swear I think we have only seen the beginning of what this girl is going to do! She will be BIG in the future!

RH- Tell us about your work on Victorious.

LN- I am having the time of my life! I get to go to work and play such a cool character like "Lane Alexander," then (when needed) I get to choreograph! I have the best of both worlds! Oops, did I just switch into Hannah Montana?

RH- What exactly is the job of a dialogue coach?

LN- One of the first television jobs I ever had was a dialogue coach. When I was a dialogue coach, my job was to come in and be extremely familiar with the script so that I could help the actors learn their lines. I would run lines with them, help them with the "pacing" of a scene, and often run lines for them when they were unavailable. I would also play different characters that weren't cast yet so the actors had someone to play off of and for the writers to get an idea if the joke or scene was going to work or not before putting it on film. As an actor, I felt that it was the best training I ever received.

RH- What is a voice-over?

LN- A voice-over is when an actor lends their voice to a project off-camera or off-stage. A few examples of a voice-over is when you see a commercial for Victorious or iCarly and you hear a voice say something like "Coming this September, the biggest television event of the year..." You don't actually see the person saying it, but you can hear their voice.

Another example is when you see a cartoon character like Bugs Bunny. Without a voice, he would just be a cartoon rabbit moving his mouth with nothing coming out. That would be kinda boring, but thanks to the amazing talent of Mel Blanc, he gave voice and personality to one of my all-time favorite cartoon characters ever.

RH- Which did you like portraying more: Lane Alexander (Victorious) or Ernie (iCarly)? Which is more like you?

LN- This one is tough to answer because I love them both, but for different reasons. I love playing Lane Alexander because he's so nice, but his fans wish he would do more on the show. Right now, he comes in, says a few things then leaves. I believe, as the series continues, we'll be seeing him a lot more.

I loved playing Ernie, but he was only in one episode...so unless he comes back to visit iCarly, I may never get to play him again.

Without a doubt, I am more like Lane Alexander (Victorious) in real life. He pretty much handles everything the way I would. I am so blessed that Dan Schneider, Executive Producer, wrote that character with me in my mind. The main difference between me and Lane is - I never use that much lotion!

RH- Tell us about the creation of the dance for "Make it Shine."

LN- Believe it or not, what you saw on television wasn't the first version for the song. At first, it was Victoria (played by the awesomely talented Victoria Justice) on stage, dancing by herself; then with two guys. After Dan Schneider and the network saw it, they decided to make it bigger and better. I am so glad they did. It was a very smart move on their part, I thought. Dan told me he wanted it to be like an MTV-typed routine. I wanted to make it fun for the kids and adults to watch. So often on television, they do routines that look more athletic than dance-like. So I wanted to make it so kids at home would want to get up and try to imitate the steps they saw. I think it worked! You'd be shocked at how many people come up to me and start showing me the moves.

RH- Is there anything upcoming on Victorious or iCarly that you can tell your fans about?

LN- On iCarly, they have some major guest-stars coming to visit; and on Victorious, I think you're going to see the cast get bigger and better

RH- Who are your inspirations when it comes to dancing and acting?

LN- There are many, many, many! Without a doubt: Gene Kelly, Michael Jackson, Lucille Ball and Flip Wilson were probably my biggest influences. Also, past and present acting/dance teachers, and many television actors from my favorite shows; too long to list!

RH- Which has been your favorite Broadway musical to choreograph?

LN- I have never choreographed anything on Broadway. I use a lot of music and ideas I get from the many shows I have seen. I am a true Broadway geek! I also work (privately or with a group of) actors/dancers from Broadway shows on styles, steps and dialogue.

RH- Have you ever had to choreograph dances for inanimate objects?

LN- For stage and film, I have had to come up with routines featuring cowboys, space creatures, showgirls, wrestlers and food items. Thankfully not for all the same show!

RH- What advice do you have for aspiring actors/dancers?

LN- Never, ever give up. Because of so many reality shows, people think that you get discovered overnight. It doesn't happen that way. You have to continue working on your craft and pursuing your dreams. If one door closes, another will open, but you have to be ready (with talent) to walk through that door!

Before I sign off, I'd like to thank TeenInk.com for giving me this opportunity. I can't stop reading your amazing articles and looking at your insightful images.

Please feel free to follow me (Lane Napper) on Twitter and I'll keep you up-to-date on what's happening on the set and on the stage. You guys rock! Thank you!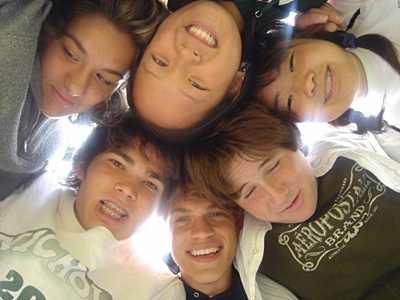 © Zhihan C., Hudson, OH