The Socially-Challenged Fights Back
February 27, 2009
I walked into 3rd hour Science, full of joy. As usual. A smile pasted on my face, and a leap in my step. I looked among the sleepy faces of my peers, and immediatly my mood changed. My friends seat was empty. Where is she? I asked myself as Mr. Walzcak walked into the room. She was here second period.

"Pull out your notebooks and periodic tables", Mr. Walzcak chimed. The class groaned. Chemistry. Not my best subject.

After, 10 long minutes of writing notes, and listening to the cheerful drawl of Mr. Walzcak, Jessie finally walked in. Finally, I whispered to myself. Her face was bright red, and she had tears in her eyes.

"What's wrong?" I whispered to her.

She just shoke her head at me, and started to cry silently as the drawl continued, saying something about molecules. My head buzzed. What was wrong? What could make Jessie cry like this. She never cried. Well, except that one time.. But that was pretty bad.

I asked again. "What's wrong?"

"I got into trouble", she whispered back. Her tear stained flashed with anger.

She went back to crying and shaking her head.

"Whitney." She said to me. "She called my sister a fat whore, and a slut." My mouth was open in awe. "She punched me, so I punched her back. We got into a fight. And as usual Whitney lied about everything." Tears were brought back to her eyes, as the memory was uncovered in her mind.

I hated Whitney. With every ounce of hate. I have always hated her. Always. And yes, Hate is a strong word. But Jessie is tough, and tough girls dont cry. My anger was excrutiating.

I tried to comfort her, but her tears kept flowing, and she kept shaking me off. The hour ended. I didn't see Jessie until 8th period. She had her backpack and everything. She was still crying. Crying the hardest I had ever seen her.

"What's wrong," I repeated, my mind goes back to 3rd period.

She shook her head and walked away. I stood there, my curiosity got the best of me. I followed her. I didn't care if I was late to Choir.

I grabbed her shoulder. Constant tears. Streaming like rivers.

"I got suspended", She whispered. Again, I was in awe.

"Did Whitney get suspended?" I muttered.

"Yes," she said. At this I grinned but then my face went grim. She went to get her homework, hugged me good-bye, and left without another word. As I walked down the hallway, with my books in hand, and other kids running around me giggling. Anger resurfaced.

I can't believe what "Popular", girls will do to get attention.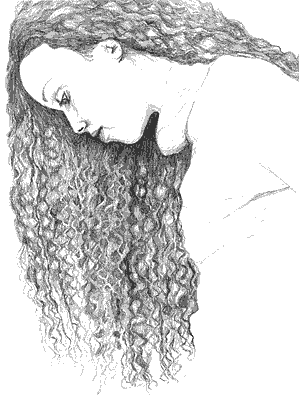 © Andrea S., Oakhurst, CA