Fallen From Grace
November 26, 2015
Destruction. Desolation. Despair.
At the push of a button, and a graceful but determined arc, chaos had enveloped this once bustling city.

Many years after the disaster, peace has finally settled. At the centre of it all lies the palace; a once magnificent building reduced to merely a shadow of its former glory. Fragments of stained glass are strewn on the bare and blackened earth, glistening in the pale light of the dying afternoon.

Small children scuttle through the skeletal remains, desperately searching for anything to help them survive. Gilded statues and crystal chandeliers lie amongst the rubble- treasures from the past now buried under collapsed pillars.

By some miracle, a small statue remains in the midst of the ruins, its white marble tainted by specks of scarlet tears from those who once roamed this city.

Signs of life and hope begin to emerge from the ruins. Small, exotic flowers peak cautiously from the dust and brightly coloured birds fly home to their nests, built high in the ruins.

In the distance, the palace gates still stand ajar, tall and proud: a stark reminder of the past and an open invitation to the future.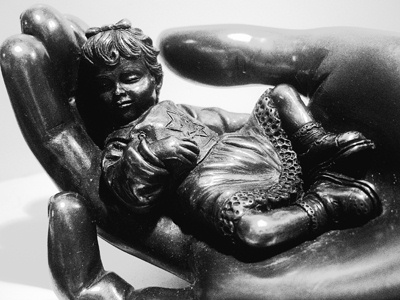 © Dat L., Worcester, MA