Summer of Revelations
MAG
A paradox is a statement that contradicts itself. A perfect example of this was last summer - it was the best and worst of my life. At times I was ecstatic, and at others totally lost, my only desire to be home in my own bed. But through the various events of this summer, I learned the very important lesson to cherish every experience. Now I will guard against becoming so focused on the future that I let the present slip away.

The first challenge of being at camp was homesickness. At first I was too wrapped up with trying to make friends, but it hit the middle of the second week. I remember calling home before a concert and staining my performance clothes with my dripping mascara. At the time I would have given anything for an hour on my couch with the television. My focus was on missing home rather than making the most of meeting new people. Gradually, however, I made friends and camp became so enjoyable that I forgot to call home. My fears about having no one to sit with in the cafeteria dissipated and instead it was a struggle to decide where to sit. I adjusted to the rustic accommodations and finally began to have the experience the brochure had promised.

For a while, I was doing a wonderful job enjoying my time at Interlochen, my haven in Michigan. I had companions to talk with, my cello skills were improving, and thoughts of home had slid to the back of my mind. And the unthinkable happened: a serious camp romance developed. I anticipated our every meeting, countless hours were spent in discussion, and it seemed like all the pieces were falling into place. As usual, I was wrong. My calling card was once again sweaty in my hand while I waited to call home. I resumed my homecoming countdown and devoted a ridiculous amount of energy to holding back tears.

However, some good did come as a result of my heartbreak. Although I was consumed with regrets, I focused more on my instrument - my real reason for being there. I spent many sunny days in a basement practice room and gained focus on what I really needed to work on improving. During those weeks, I also met one of my best friends, Salima. If my romance had worked out, we might never have become friends. As it is, we call each other and e-mail once or twice a week. Her advice helped me gain perspective on the situation, and without her, I would have drowned in my own melodramatic sorrow. I learned that good can come out of a bad experience.

When the last weekend at Interlochen arrived, I came to the horrible realization that I didn't want to go home. I finally understood my mistake of trying to zoom through camp and the unhappiness I experienced rather than focusing on the good.

Our final concert was heart-wrenching. Tears fell on stage, and afterward the good-bye scene was maudlin. The understanding that you will probably never again see some of your new friends isn't something that passes without a tear. Our last night in the cabin was hard and I regretted all the hours I'd spent wishing I were home.

From this camp experience, I learned more than I ever thought possible. Despite homesickness and heartbreak, I was able to make some great friends and improve musically. I wish I could have back the hours I wasted. I should have fully appreciated my time in Michigan. However, now I know to live every experience to the fullest. Many times, we simply become too caught up in what comes next. If only I could do it all again.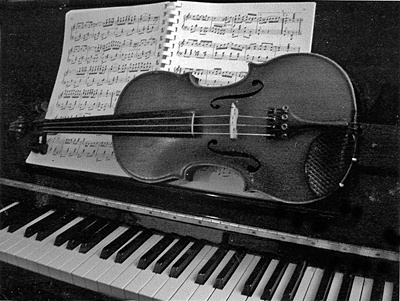 © Edwyn A., Chula Vista, CA