Friendship
MAG
We stand in a circle right next to the door, blocking half of it. We always seem to gravitate to doorways, where we're most in the way. A teacher usually comes by to herd us out of the way, but 30 seconds later we're right back where we started.

Every so often, another person attached to our large group of friends wanders over and stops to chat before moving on. We just stand there and talk and laugh, glorying in the few moments we share.

As large as we are, we're as close-knit as a family, and though we occasionally fight, we are each other's support. When one person is upset, everyone forgets whatever is plaguing them and rushes to offer a shoulder to cry on, a tissue to dry eyes, or a comforting word.

Now I gaze around the circle, my eyes drifting over all these people I can't imagine living without. Lately, it seems as though life has been sweeping over us, like waves in the ocean, fighting to rip us apart and drive us down. Still, I can't help but think with pride that we've managed to hold on to each other. I look at each in turn, thinking of the tears and laughter we've been through together.

There's Margaret, who comes to school almost every morning crying because of fights at home. She says it's not that bad, but since we've been friends for seven years, I've noticed things and been told more.

Then there's Julia. She's an artist but has almost no self-confidence, partially because her parents don't understand her. We try to show her how extraordinary her work is but she doesn't listen. Still, she's been invited to take classes at several prestigious art schools and we have faith that she'll be famous; it's not a question of if, only when.

Sarah is beautiful and the desire of many boys, while being the envy of many girls, but the one boy she wants is oblivious to her charms. At almost every party she goes to, she winds up leaving early or crying on our shoulders.

Elizabeth is one of the smartest people I have ever met but is never quite good enough for her mother, who tries desperately to mold her into a "perfect child," never seeming to understand that Elizabeth already is as close as a person can get.

John is hopelessly in love with a girl who will never love him back. He pines for her every day, but to no avail. She is perfectly aware of his admiration and scorns him ruthlessly, yet he still adores her.

Finally, my gaze lands on Marie, my best friend, who wears a long-sleeved shirt to hide the cuts on her wrists. She's a truly incredible person and I admire her more than she knows, but neither she nor her parents see what I see. She has applied thick foundation to her cheek to hide the bruise from where she was hit. I've seen her giddy, euphoric, sobbing, despondent, and everything in-between. We've saved each other's lives, and continue to do so every day.

I look around at all these beautiful people who will never know just how much I love them. Right now, we're smiling and laughing, basking in each other's comforting presence. I know that storms and tears will come soon, but right now, we're content. And I know that whatever will come, we will hold each other up and wipe away any tears. That's what we do.

Yes, I think, we'll be all right. As long as we've got each other, we'll make it through somehow. And I feel my mouth curving up into a smile as the sun gleams through the windows, shining warmly on us in our love and laughter.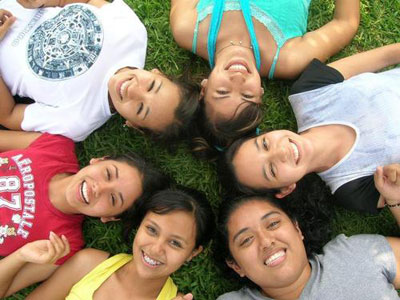 © Anonymous