Dear Members of the U.S. Military
MAG
Dear Brave Members of the U.S. Miliary, My brother, Matthew, joined the Army on August 29, 2005, only a few days after my fifteenth birthday. I remember standing there just staring at him with my mouth ajar. "I'm leaving for boot camp in a month," he said.

Everything after that was a blur. There aren't enough analogies in the world to explain the devastating blow to my heart of that moment. Matthew was my everything, my protector, my brother. The thought of him missing my first date, my prom, my graduation killed me. I sat in my room, wrapped inside myself, rocking back and forth. He was going. My wonderful brother was going.

When he was at boot camp, I couldn't write to him, I didn't have the heart. My relatives were happy that he had joined. Only my dad, mother, and I were really affected. He didn't call much, not in the beginning anyway. I couldn't bear talking to him. Every time he called I would talk to my mom after and try to find some sign that he had thought of me, that he missed me. But she never said he asked about me. I didn't cry until he called in October and asked to talk to me. Then I broke down.

He didn't make it through boot camp. Both of his shins were fractured. My brave brother saw himself as a failure. He had to fight to come home for Christmas. When my mother and I picked him up from the airport we were amazed. Boot camp had changed him.

Sometimes I hear a quiver in his voice when he talks about his friends who joined years before he even ventured into the Army office. He was deprived of fighting for his country, of standing up for those he loved. He wasn't able to protect my future. He told me that he wanted to ensure that my life would never be like that of girls in Iraq or Afghanistan who were not able to be individuals and who lived in a world of tyranny and fear.

He wasn't able to do it. But you, the members of the U.S. Armed Forces, are. You're fighting for us. This very moment, as I type this article, you are protecting my rights.

My brother's best friend was in the Army when 9/11 happened. He was one of the first to be deployed to Iraq. He once told my brother the horrors he faced and what he had to do to stay alive. The thought that you might be going through this (or worse) bruises my heart. Matthew's friend is being sent back to Iraq to fight for our country. He has to go back to a life of dangerous assignments. He told me that leaving his son was the hardest thing he ever had to do.

People used to tell me that my brother was crazy for joining the army. The truth is, I admire him, I admire his friend, and I admire you. You have given up everything to protect the future of our country. You have given up everything to let me live the life I am living. Because of you, I receive a free education. Because of you, I can marry whomever I want. Because of you, I am able to walk down the street wearing what I want. I can go to my high school dances. I can read to my heart's desire. I am free. Because of you.

There is no possible way I can repay you for giving up time spent with loved ones. For going out with your weapon, willing to give your life for something bigger than you, or me, or anyone. How can I ever repay you? What have you given up? I can only imagine. A daughter? A son? All of your beautiful dreams?

I wish I was able to give you more than just these words. This letter didn't turn out the way I hoped it would. I wanted it to be a gift to you. Something that you could hold on to when your hope was spent. Spent saving lives, saving your own. I wanted it to be something to help you count down the days until you could return home to those who love you. I wanted it to be something more than just a letter from a silly 16-year-old. It was supposed to fill you with a sense of dignity. But there is no way to say how grateful I am to you. There are no proper analogies, no syllables or sounds. All I can say is, thank you.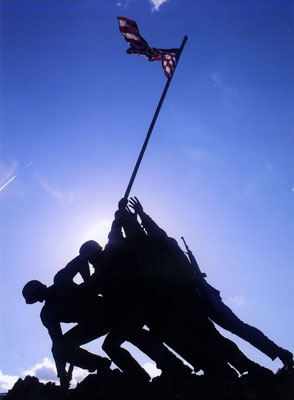 © James M., Glendale, AZ