Silent Waltz
MAG
The first thing my parents did when we moved here was buy a lock for the door. It rained so hard that first night, as we sat on the floor surrounded by take-out containers and boxes. None of us spoke, but we knew what we wanted to say.

There was a leak in the corner, and my dad silently walked over and placed an empty container under it. The steady dripping sound was muted when it hit the cardboard. The previous owners had had the floors polished before they put the house on the market, and my reflection didn't look right.

The dog paced, nervous, but lay down after a while, patiently waiting for when we would leave. I had seen the neighbors when we pulled in, and they didn't seem very welcoming. As we crossed the front lawn, I tore the "Sold" sign out of the ground and walked up the steps with it under my arm, underestimating the weight but doing my best not to let on. It was propped up in the corner now, the realtor's picture looking far too cheery, as if she was unaware of the situation at hand.

We all knew moving was a mistake, every one of us, right down to the dog. The silence was heartbreaking. After a while, my dad slowly got up and pushed up his shirt sleeves. He walked over to my mother, his dress shoes echoing, and extended a hand to her. Reluctantly, she reached out, and my father pulled her up and they began to dance. A waltz. That's what I love about my parents; all my dad had to do was help my mom up and she knew he wanted to dance. They danced the rest of the night, to the tune of our silence.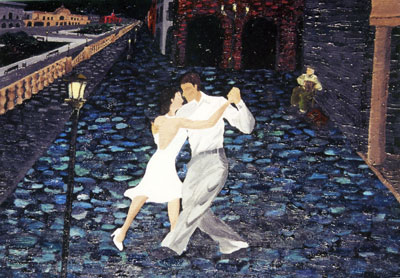 © Elizabeth M., Kannapolis, NC