I Knew It Was You
October 15, 2008
i knew it was you,
you who told me so.
you told me it would happen;
you said it was true.
i didn't listen,
didn't believe.
but here i am,
and i'm not with you.
i figured it would just go away,
leave the place it was unwanted.
but now you're gone,
and i'm left sobbing on my bed.
i don't know if i'm sad,
or mad or emotionless.
i'm staring at the small piece
of jean that tore off.
remember?
two saturdays ago...
of course you can't remember.
of course you can't hear.
of course i'm the one left behind.
as i remember you,
i recall when you said...
"if it were you with this,
and not me,
i'd be crying my eyes out."
but you never noticed the soft
red beneath my eyes,
evidence of the previous minutes.
i couldn't bring myself
to cry in front of you.
you were so fragile..
you could break from the effort of
condolences for me.

and i live with you dead
everyday, and the tears still escape.
years, it's been, but i'm
still shedding my pain.

ten years in the future,
i'll still be crying.
my best friend,
gone forever.
well, not forever.
i'll see you in heaven.
a good a person as you can't
be sent anywhere else.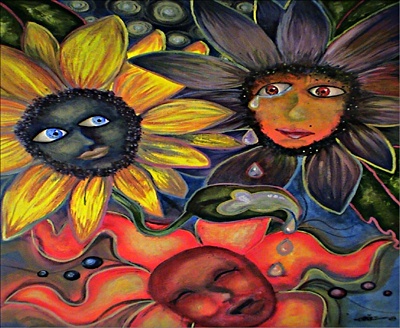 © Christine W., Davis, CA