The unfortunate
March 18, 2010
In my existence you either stumble upon those girl whose skirts are pushed down to divulge their abdomens
But, so tiny that their thighs are never even half swathed or the ones whom are so displeased with their likeness they chuck on jeans and an oversized sweatshirt hoping to hide their imaginary rolls of obesity.
Striding along the corridors of my own school I watch these teens being the observer I am I study them intensly
I examine as they exchange a few words with their friends ,giggle and work at the minuscule papers that to teachers are undemanding but to the students are their permit to an A plus.


I am Annalisa Marie Helena René. Auburn hair that arrive at my shoulders, chocolate eyes that are veiled in the wake of onyx undersized glasses. An uncomplicated but, petite frame. Which was often referred to as "fun sized" "I will disclose I am diminutive but give pleasure to do not deride me I did nothing to you" I would respond and they would slink away not following what words formed off my lips. However that is what you receive from people when you verbalize with ripened expressions. Of course it was not my liability I was using these words I was just told that reading was what would make me thrive so when I was an infantile I would sift through sheets of a dictionary leisurely gaining knowledge of every slither of a word on the page. The verb that went alongside of it the definition and any altercations of the word were processed and accumulated in the interior my intellect, which is the foundation of how I can discharge words of vast astuteness without apprehending that I was doing so. You my reader probably do not recognize me either and I anticipate you trawling trough a dictionary at every statement. I shuffled my way into my advanced physics for seniors but I was a junior…inclusively unaccompanied again. I glanced to see the teacher he had faded black hair that had thinning sides with tips tinted gray from age his beard grew in gray and his eyes sea washed green. "Now my scholars we shall commence! The populated ohms conundrum part two page 500 and.." he was cut off by a shaking to and fro of a door knob and in sauntered a young man jagged obviously in the "punk scene" Black hair with white dyed tips in a "emo" style two silvery small hoops in each of his ears smooth light face that looked as if the moon reflected upon him with his faded electric blue eyes. My heart liquefied on the mark. What was this boy doing here he was a relaxed learner he would not do the rigid labor needed to be in this class. Was he not?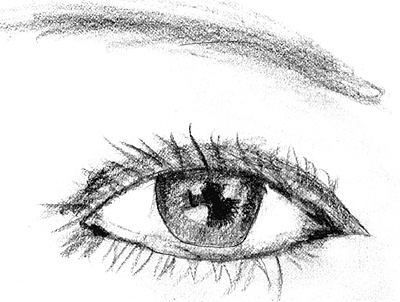 © Natalie D., Fanwood, NJ