Pieces
February 1, 2010
A girl sits on her bed, quietly crying. Outside her bedroom door, she can hear her parents fighting. Again.
She starts as something smashed against her door. The fighting is louder, now, and she can hear her mother crying, pleading with her dad; begging him to stop.
The girl curls up under her bed covers, clutching her teddy bear to her chest. The tears never stop coming.
A door slams.
After a few minutes, the girl ventures out from underneath her covers. All is quiet. She cautiously walks to her door, and presses her ear against it. Silence. She opens her door; just a crack. Seeing neither of her parents, she steps out of her haven.
A sharp pain in her foot forces her attention to the floor. She had stepped on a piece of glass. As she carefully removed the shard from her foot, she gazed around the small hallway, looking for the object that the glass had come from.
In the corner, she found her family picture, the glass in its frame shattered.
She picked it up, and carried it to a desk nearby, careful not to drop any more of the broken glass. As she set it down, her tears started again. In her head, she was wishing for so many things.
She wished that her closest friend was there with her, comforting her, telling her that everything would be okay. She wished that her parents didn't talk about divorce. She wished that she wasn't considered a failure in her parents' eyes. She wished that the verbal, and sometimes physical, abuse would finally end. She wished that she wasn't so scared of what might happen in case her family did split up.
The girl sat down and picked up a few pieces of glass from the frame. She set them down again. One of the pieces reflected a different picture, just catching the corner of her eye. It was one of her best friend. As she looked at it, she felt calmer, as if her friend was actually there.
She gazed at his picture for a moment more, then she looked back down and the broken frame with its captured moment of happiness. She smiled sadly to herself and said, "Things are going to be okay. I'm not sure how, but this hell won't last forever."
She got up from her chair and walked back to the small hallway, looking for any other small shards of glass. As she found some, it felt like she was picking up the broken pieces of her soul. She carried the pieces over to the desk and laid them out next to the frame. As the girl went into the living room adjacent to her room, she felt lighter, free-er, and more at ease than she had been in a while. When she found a new frame, she felt like she was whole again, just like the unbroken frame.
When she had replaced the broken frame with the new one, she felt the need to pray - she hadn't prayed in a really long time. As she prayed, she felt God's arms encircle her, protecting her, reassuring her that He would always be there when her world came crashing down.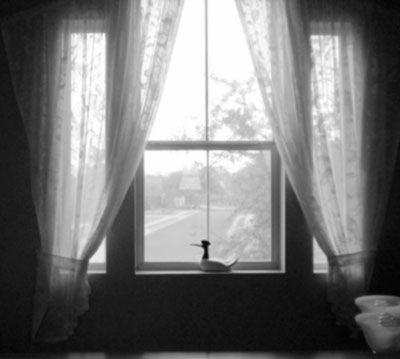 © Kathryn W., Austin, TX