Perfection
April 3, 2015
Perfection.
It's what we strive for.
Some believe it is their destiny.
Others, much like me, believe it is the world's curse.

Sure, it can be a goal. We look to it for guidance, as a role model for how our lives should be lived, for information on how to handle certain situations. Yet for me, it is a cruel, twisted, sadistic black cloud and threatening my life with a torrentous, eternal thunderstorm.

Perfection daunts me everywhere I go. The people I see passing by reek of it; not a hair is out of place, and they ooze with confidence and clarity.

Like a viper eyeing its' prey, it waits for the opportune time to lash out at me, when I'm weak, vulnerable, or most of all, happy.

One is led to wonder; why should I care? I don't have to be perfect in order to live. I just need to be me. Yet when you're sitting in a room full of tiny anorexic models, do you still feel that courageous? No.

It all comes down to your inner strength. It is more beautiful than the most perfect statue, more potent than the most perfect of medicines, more withstanding than the most perfect wall. What is inside you should not be taken for granted. It is your own, personal powerhouse, ready to fuel you when your perception begins to lag.

So would it be better to shun perfection altogether? Honestly, it does not do much good for a girl to start cutting the word into her thighs, a boy to repeat it over and over again as he ties his own noose, or for a convict to mutter it as he stares at the ceiling unable to sleep. What point is there?

My resolution? Shout it from the rooftops, scream it from the skyways. "I am flawed……………...And I am beautiful".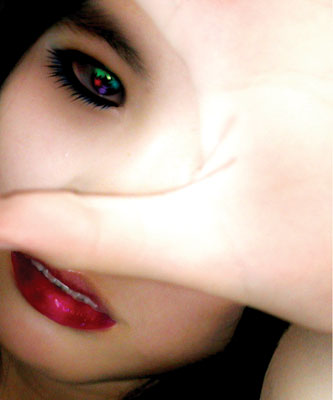 © Victoria W., Arcadia, CA