What Does It Mean?
May 17, 2014
To Wear Makeup?:

Lancôme. Maybelline. MAC. Estée Lauder. L'Oréal. Bobbi Brown. Revlon. These are the most prominent makeup brands bought not only by women but by YOU young teenage girls as well. There are but so many reasons as of why: To go with your outfit for the party. To take "the perfect selfie". Or to look like the models in the magazines. When really it's to hide the acne scars on your cheeks, the pores on your nose, the discolouration on your forehead, and the lids of your eyes. Is it really that bad? Is your face that dissatisfying you cover it with powdery chemicals and liquid additives that kill your beautiful skin?

To make matters worse, you wear makeup almost every day thinking it will correct the blemishes when it only makes it worse. That $35 Chanel lipstick that brings colour and "pop" is the same lipstick that contains methylparaben, propylparaben, and tocopheryl acetate, all of which cause itching, burning, scaling, blistering, cancer and disruption to the endocrine and nervous system.

Your foundations contain mineral oil, a petroleum by-product that interferes with the skin's function to excrete toxins, which causes acne and premature aging. So imagine being sixteen years old with the face of a forty year old woman.

Mascaras contain heavy metals: lead, mercury, cadmium, arsenic, nickel, etc. These metals can build up over time and can cause varied health problems. Limited studies have reported linked exposures of nerve, joint, and muscle disorders, memory loss, brittle hair, hair loss, and more. According to EWG's Skin Deep database, mercury is an impurity in 1.9% of products, mascara being one of them.

Whether you like to wear the cute tints and flashy or subtle hues, you still have to come home and wash off the gunk and look at the face you were born with. So what if it isn't the face you'd see on the cover of magazines. Don't punish it with hazardous poisons banned in almost 20 countries! You wearing makeup only means you don't appreciate the one thing that constitutes you. Why hide it behind paint? It doesn't mean don't wear makeup ever. Wear it on special occasions. But wear your face it for what it is, not for what the media says it needs.

To Wear Extensions?:
Weaves and extensions are popular hair accessories worn by celebrities and non-celebrities, all races and nationalities in mind. Millions of women— and again, teenage girls— amplify their beauty with the products such as Remy, Indique, Sassy Mitchell, Ultima, and Diva Tress. But most of them don't know the dangers of these synthetics. They cause the two biggest problems of hair damage, too much tension (when applying) and too much traction (when taken out).

Countess Vaughn, 90's star on shows 227 and Moesha, has made known of her horrific experience wearing lace front wigs. When she appeared on "The Doctors", Vaughn filled in on the issues she encountered.

She said in 2004, "my hairstylist introduced me to lace-front wigs and I fell in love immediately." It didn't take long for her to notice her reaction to the wigs.
"Five years later the drama came in. The red flag was oozing from my ears, forehead, the whole nape around my head," said Vaughn. "What I did not realize, I had a bad reaction to the glue I used to apply the wig. My hair started to fall out."
As anyone else would, she sought help.
"I went to the dermatologist but he did not let me know the long-term effects of the infection," she said. "I have skin discolouration and people assume I have vitiligo. I use makeup to cover up, especially the skin under my eyes. Skin came off of my ears. I draw in my hairline with an eye pencil."

So for you girls that wear weaves: Did you know that if you let your hair alone and avoid the needle and threads to your tresses, your hair will grow? There's no need to put so much stress on your roots and edges because you don't like the length of your natural hair. And another thing that bothers me is the styles you do it in. You get them in every colour available and have them super long or super short and flaring. The main reason women wore weaves was to help their hair grow, and to make it look like their hair since it was the same colour. Wearing too much causes death due to allergic reactions. And for what? To look like the girl who was born with her long, luxurious hair? More than likely, that's not even her hair!
Why make yourself even more insecure? Let it be. Women try so hard to change themselves when it isn't even worth it. Especially losing your edges.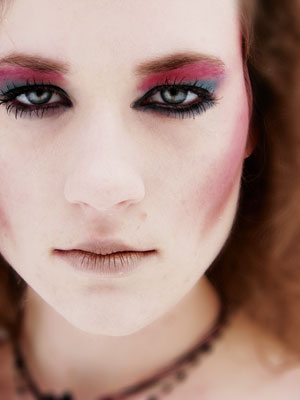 © Elizabeth H., San Bernardino, CA