He may not be a superhero, but he's my hero.
July 14, 2013
Has your family ever been gathered just so you can be told your brother has cancer?
Looking at your brother, taking in the pain that aches your heart, that seems too much to endure.
He looks down and listens to the cries, as the whole room blurs out of focus.
Your eyes cloud with tears, staring at him, and wondered when he would be torn away from us.

I died inside a little bit that day, losing hope as I kept choking down my tears.
Imagining the worst, but not sharing it, you sit there shaking with fear.
Cancer kept taking lives, and no one could save the victims.
All I wanted to do was console my brother that he'd be okay and reassure him.

It hurt to think of future without him, and how miserable life would be.
"Alex, I don't want to lose you..." I told him as he hugged me.
"You won't.", he said with confidence in his tone.
Worrying was something constantly going on in my mind, but I wasn't alone.

Seeing the fear in my grandmother's eyes, red and puffy from crying.
Every time he told me he was okay with pain in his voice, I knew he was lying.
Chemo was weakening him and killing him, Please let me be wrong.
I knew he was so incredibly sick and weak but so strong....

After such a battle, he had arose from the weakening sickness.
Hearing the news, we all hugged, and were filled with bliss.
I was never an emotional person, but I let my guard down.
Laughing yet crying, we were all holding him so close, I noticed no frown.

He was so important to me, and I never really told him as much as I should.
But I promised myself to tell me I love him whenever I could.
A year later, I noticed my family crying again and I knew this familiar feeling.
I began to sob, my heart racing, my memories of our childhood reeling.

He had won the battle, not the war but I knew he would fight.
Fight until the end, and would not show even a bit of fright.
I knew my brother, I knew how strong he was. He fought, he won.
He would do it again. Cancer should never have to take anyone.

He was so stubborn, and I knew he would not let it take his life without using all his might.
Our family had to endure endless tears, aching hearts and more sleepless nights.
Knowing I couldn't fix him was too much to bare, I hated it.
Wishing I could suffer rather than my big brother, but I just had to sit here and live with it.

Never give up, Don't look back, We just keep on moving forward.
Smiling vaguely, as we turned the corner to the cancer ward,
my grandmother walks and keeps holding his hand so tightly.
We know a second time will not go by lightly.

But my brother is a fighter, and I knew he could and he would make it through.
No matter what chemo did to his body, he knew enduring it was something he had to do.
"I love you..." I would say to him as he would sleep weakly on the couch after chemo.
Opening his eyes, slowly and weakly as he looks up at you.

He never gave up, and he survived a second time. Cancer had failed to take his life.
Now he can grow up, enjoy life like a normal person, have kids, have a wife.
Now, he can pick me up, spin me fastly around over his shoulder as I laugh and tell him to stop.
Just the thought that I could have lost him is enough to make my heart drop.

Cancer could not have my brother, and he may not be a superhero, but he's my hero.
He fought and fought, even when his chances seemed to be close to zero.
That hard time has brought my family closer, and we cherish him more.
After experiencing something like that, I learned that family is something to adore.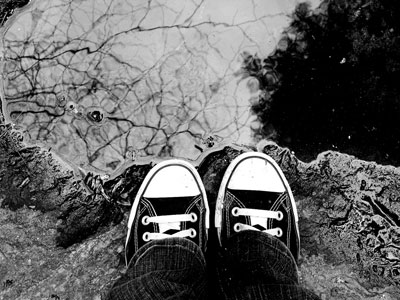 © Michelle B., Blairsville, GA