Message In A Bottle
February 22, 2013
My feet burned against the scorching sand like a blazing fire. I swallowed my anxiety like a bone stuck in my throat as another one washed along the shore only a mere two days since last time. They came progressively shorter in time as the years passed along. I took two steps closer to the violent, crashing waves where it arrived. The message would read the same as the others; they were all the same. Or maybe it just felt that way as every message morphed in my brain with the same cry for help, the same tale of woe, and the same emotion filled heartache.

The glisten of the glass shined like freshly polished silverware under the illuminating sun. The cool breeze hitting my face, I imagined myself swimming away from the shore in a hopeless quest. In my vision, I treaded dark, gloomy water for miles upon miles, my mortality fighting my instinct to disregard the problem. I swam, but the waves knocked me farther down, imprisoning me underneath. I struggled beneath the grip of the tide, gasping for air, my lungs burning until I swore they'd explode. My salty tears would mix in with the water of the ocean as I'd lose myself in terror. My vision ended with a fight for uncertain survival. My conscience was overpowered by my human instinct to forget about the plea for help and to turn the other cheek.

Yet, here I stood in utter hesitation as I shoved my guilt far within me like a container of compressed air. I picked up the glass with two fingers, refusing to catch the slightest glimpse of the scribbled note inside. I tossed the bottle up in the air and into the pile of many others like it. The bottle clattered on top of the others never to be seen by a living soul again. I closed my eyes and turned the other way, letting the ocean wash away the remorse and shame that haunted me every night I fell asleep. How long has it been this way? I wasn't sure. All I knew was these disgraceful habits have been taught subconsciously throughout generations. But as for that message,…I never found out who conveyed that message, but I continued to look the other way as long as it wasn't me throwing the note into the dark abyss of water.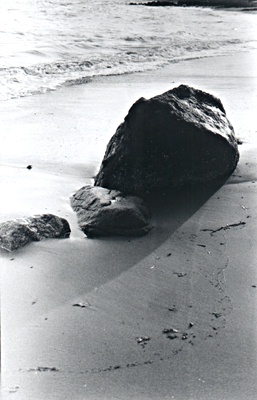 © Alexa R., Marblehead , MA