Twelve Things Guys Should Know About Girls
September 4, 2011
First, I want to start by saying that these facts may not apply to all girls, but they do to most of them. I got these facts from experience, friends' experiences, books, movies, and from what I heard, so I'm almost positive that all of them are true. It might be wise to actually listen, not just read, to what I have written for you. I'm only trying to help. And these aren't facts that are the obvious stuff you should already know—don't cheat on a girl or don't treat her like crap. No, these are the ones that you're confused on or are hidden from your adolescent minds.

1.
Guys who talk nonstop about themselves are considered conceited jerks in our book that we don't like at all. We get bored within the first three minutes of the conversation. So, in other words, stop talking about yourself and your greatness and realize that other people actually exist!
2.
All girls, myself included, search for hot guys, but we still focus on the personality. So don't that just because you have the hot bod and the nice face means you have the okay to feel us up or do anything other than have a civilized conversation.
3.
Stop playing video games! Yes, I'm talking to you, boys, who go over to your girlfriend's house and play video games with her brothers the whole time. Or when she comes over to your house and you ignore her and her attention needs by playing Halo. GIRLS WANT ATTENTION. So get off your lazy butts and point your eyes at the girl you say you like instead of at the TV screen.
4.
Some of us girls suck at sports, so instead of laughing your faces off it would be nice to show us how to play. But a lot of us can play sports and are good, so don't be a sore loser when we beat you.
5.
We tend to see every little thing that's wrong with our appearance, so please guys, compliment us and tell us we're beautiful, even if you have to lie. We will appreciate it.
6.
If you ask for a girl's number and she actually gives it to you then call. Don't wait a week and a half, making the girl squirm with anticipation. It makes her think she's ugly or not worth liking. So she ends up staring at the phone, waiting for you to call, giving her social life a big kick in the butt. CALL RIGHT AWAY!
7.
Don't lead a girl on. If you don't like her then tell her or say you just want to be friends because she will not notice. Say you're best friends for a year and she falls in love with you. You take a dare and kiss her or someone tells you that you two are a great couple (even though you're not dating) and you just laugh. Now she thinks you like her. Hint to her that you just like her as a friend, because if you don't she'll be crushed and never want to talk to you again. Yes, it's overdramatic, but that's just how we are.
8.
We are bipolar. I know you guys have a hard time figuring us out, and believe me, you never will. Our emotions change very quickly; it's just a fact of life. So next time you want to blame it on PMS so you could avoid talking to us for a whole week, suck it up and think again.
9.
Just because we flirt doesn't mean we like you. Some girls flirt because it's fun and they like to play around. Others don't even know they're flirting. So guys, if a girl is flirting with you, it doesn't mean they like you.

10. Say or do something every once in a while to show that you care. Girls want to know if her guy still likes/loves her, and she can't tell if you never show it. So tell her you love her every day or that you care about her. Write her a song or something and sing it to her. Give her flowers on your date. Girls will love you more for it, I'm telling you.

11. Girls love presents and we always will. Sure, we like it when you give us a gift card, but we love things from the heart. You could play a song for the girl you care about or go out in the middle of the football field, announcing to everyone your love for her. Come up with something creative. Yeah, it might be kind of embarrassing, but we would really feel loved and appreciate it, even if we don't show it.

12. Girls like it when you act yourself. If you're a geek (smart person who likes school) then be a geek, don't try to act like a jock (an athlete). If you're a jock don't try to act like a drama freak (freak meaning you like drama) or a musician just to get the girl. Come on, guys, we're not stupid. We can tell when you're tricking us, pretending, or whatever other word you want to use to say that you're being fake.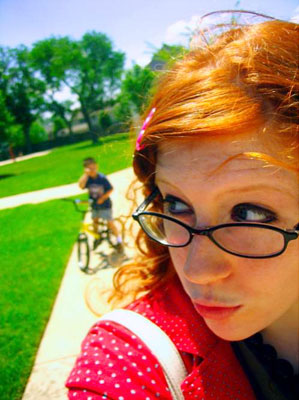 © Callie B., Mechanicsville, VA