Media and Body Image
June 1, 2011
Ever herd a slim friend saying "I needa shed a few pounds" or a blonde saying "I wish I was a brunette!" Or a pretty girl complaining about her ugly toes? I am sure u have! All this happens because people compare them selves to anorexic models, loaded with tonnes of makeup, and their highly photoshopped pictures.
So what is wrong with the comparison? Well, comparison between a real life woman and a model/actress is not realistic at all! They are different as chalk and cheese! A model, for instance is paid to look good, she has no work except to groom her "beauty" in daily life. While on the other hand a common woman has to deal with the wears and tears of day to day life. She needs to be stronger and healthier as compared to a model. There is another reason that makes this comparison invalid, judge it yourself: statics show that an average American woman is 5 foot 4 inches and weighs 140 pounds while an average American model is 5 foot 11 inches and weighs 117 pounds! PATHETIC!
However as far as lower self-esteem is concerned in young girls, model are not the only culprits, parents too give rise to this problem. How? If you buy your 5 year old a Barbie doll and say"My dear! this doll look no better than you", you are actually comparing the doll with her, consequently, she sub-consciously thinks that is the standard beauty. As they get older such children might shatter or get disappointed with their looks.
I firmly believe that every girl is beautiful despite what her weight, height, color of the eyes,skin and hair is..............As long as she is confident. Believe me! Try walking proudly and confidently where ever you go. Take compliments gracefully, remember the magic word "Thank you!", then USE IT! You will feel beautiful.
And remember NONE, not even Angelina Jolie is picture perfect in reality.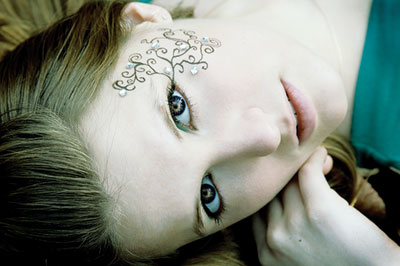 © Michelle B., Blairsville, GA