Going Online vs. Going Outside
MAG
August 2, 2014
"Out of the world's estimated 7 billion people, 6 billion have access to mobile phones," according to a United Nations study. By comparison, only about 4.5 billion have access to toilets. That's right. More people have access to cell phones than toilets.
People seem to believe that as technology improves, so does the quality of our lives. Today, we have the world at our fingertips. Want to know the weather in 1934, find a restaurant in your area that serves jellyfish, or ask Siri (a.k.a. the woman who lives in your iPhone) for the best place to hide a dead body? The iPhone can do it! But because of all the luxuries that technology has brought us as society has progressed, humans have lost our sense of fulfillment. Many of us have been irreconcilably removed from nature and physical labor; without these, we are forced to attempt to fill the void through artificial means.
Those of us who have been removed from nature are left with a feeling of dissatisfaction. In the late 1800s, the rise of industrialization marked the beginning of most people's transition from the rural world to city life. Transcendentalist writer Henry David Thoreau attempted to emphasize the importance of nature to humans' lives. In Walden, he reminds us that "we need the tonic of wildness," suggesting that nature has a medicinal quality that is essential to our well being. Thoreau continues, "We require that all things be mysterious and unexplorable, that land and sea be indefinitely wild, unsurveyed and unfathomed by us because unfathomable." The natural world has the power to enchant and puzzle us because of its "mysterious and unexplorable" qualities.
The mystery of nature stems from the fact that there is a lot about it that we don't yet understand – from the soft bioluminescence of jellyfish to the migration patterns of blackbirds. Grandiose glaciers, cavernous canyons, monumental maple trees, azure pools of water – these captivating elements of nature leave us in awe and remind us of what Mother Earth is capable of.
Fueled by the desire to feel wonder, human beings explore their surroundings. We crave adventure. Without an outlet for exploration in the pursuit of awe, humans become dissatisfied with their lives. We are left with a void, a desire to be shocked and amazed. In response, humans have constructed our own urban jungles with towering skyscrapers and unfathomably lavish architecture.
Humans also feel unfulfilled when removed from what we view as the most primitive of occupations – physical labor. In Willa Cather's My Antonia, the main character, Jim Burden, admires hired girls who spend their time doing manual labor. This labor makes the girls wiser, more vigorous, and more interesting than the town girls, whom Jim views as stiff and dull. Jim, however, chooses to walk a more socially respectable path. He dedicates himself to schoolwork and goes to college. The further Jim moves away from the hired girls and physical labor, the less satisfied he becomes. Although many people tend to respect scholars above manual workers, physical work is an enriching experience without which we, like Jim, feel dissatisfaction.
I, like many teenagers today, attempt to satisfy my inner void through excessive Internet use. Take last week, for example. I had everything planned. I was going to finish my homework early, eat breakfast for once, maybe even have time left over to start War and Peace. But alas, how quixotic my endeavor was in the face of the Internet. I only opened my laptop to check the weather, and before I knew it I had 10 tabs open, including "how to draw a peacock," "five signs you're having a heart attack," a list of Stephen Colbert's favorite restaurants, and "10 things you could be doing instead of being on your computer."
Why do I do this, even knowing that I will be in a worse position for having spent all this time on the Internet? The answer: there is an instant reward. The stimulus is gratifying, albeit ephemeral. Going outdoors, spending time with family, doing a little yard work? That would require too much planning and effort. Why not just watch cat videos?
We are deprived of the experience of being immersed in nature and labor when we are so focused on our online lives, as many of us are now. The world has also become increasingly impersonal with the development of the Internet. Our social interactions have descended into nothing more than Facebook wall posts and likes on Instagram pictures. As great as the Internet may seem, it deprives us of some of the most valuable parts of human nature. We must take time to remove ourselves from the Internet and our cell phones and appreciate the world as it is – without taking pictures.
How do we do this in the 21st century, when much of the natural world has been manipulated by man for profit? Finding a balance between enjoying the natural world and indulging in technological pleasures seems like the most reasonable approach. This is, of course, easier said than done. Maybe Siri has some ideas.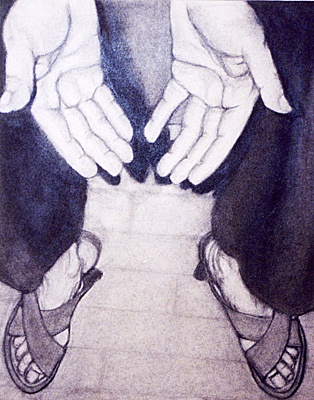 © Daniel R., Cicero, IL