Café 458
December 1, 2011
Café 458 is an establishment that is dedicated to helping the homeless and others less fortunate in the Atlanta area. It serves as a restaurant for the homeless on weekday mornings and is open to the general public for brunch and dinner. Volunteers sign up for shifts online and are assigned to be waiters/waitresses, dishwashers, bussers, etc. as in a traditional restaurant. On Sundays, the public is invited to come in and order brunch; the funds go directly to aid for those less fortunate.
I volunteered at Café 458 during their Sunday brunch after Thanksgiving. Including myself, there were seven volunteers that day. Currently, Café 458 is undergoing renovations to expand the restaurant, so the volunteers were divided into two groups: half were to act as waiters/waitresses and help in the kitchen and the others were to do other odd jobs in the back. I was assigned to clean out and decorate the back, so my job mostly consisted of sweeping, hanging curtains, building chairs, moving tables, and toward the end, cleaning the kitchen. This room was to be another dining room to accommodate more customers.
The room that before was cluttered, unorganized with tables, sheets, little sofas, and scattered leaves, was later transformed into an inviting, dining area. The theme was "eclectic", as Liz, the person in charge noted. Actually, I believe that most of the furniture was bought at Goodwill. It is true that not all the chairs and matched and the floor was a bit scuffed, but the atmosphere was nice. It had...something. The tables were finished with a gloss, making them appear as real wood and the cushions for the new chairs were reupholstered with a cool, metallic looking color. The curtains I helped install, flowed and moved with the wind from the open window tying the room together. There were also these faux birdcages with feathers and scarves made to look decorative. After I was finished, I felt very proud of what I helped do.
Earlier in the semester, I went to the Office of Civic Engagement at my university---Georgia State---to see about some new opportunities to volunteer nearby. I chose Café 458 because it seemed different from places I usually volunteer. My family donates clothing and blankets throughout the year, I have volunteered to watch my neighbors' children, and my sister and I have been to Piedmont Park twice to help at the AIDS Walk. However, I have never directly involved myself and seen how difficult life can be for some people. While fixing up that room, several people in worn clothing asked if we were still serving brunch until dinner. I saw children who looked so tired and hungry, holding their mother's hand. The chefs also came by to let certain people know that they would be saving a plate for them later. I was also in charge of writing down names, so that the meals could be picked up later. They had real problems, which were not so easy to fix. I have read somewhere that in some places of the world, there are people who live on one dollar a day. But what about the people right outside your door? The issues of poverty and hunger are not always as far as Africa and financial insecurity is not a falsehood, but a heartbreaking reality.
As I was on break, sitting with other volunteers and eating pancakes, we discussed problems plaguing our society. Back and forth, we engaged in thoughtful conversation topics like the economy, the environment, art, culture, and world hunger.
The whole day was an experience; this was the sort of kindness that makes a community stronger. Due to economic setbacks, social conflicts, and other hardships today, not everyone is financially secure. Every situation is different-- jobs are being lost, gas prices are still high, and some have had to suffer dire consequences such as losing their home. If we could all donate our time and give all we can, the world could trudge on a bit easier. I plan to return to Café 458 after Christmas.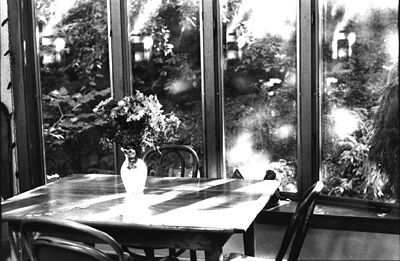 © Bree C. Marblehead, MA