Untitled
March 25, 2015
Earlier this year, students started to use the app Yik Yak. The app was originally created for college students to talk about classes and events going on on campus. However, students used it as an opportunity to bully and demean anonymously.

It started with a group of boys putting down a specific group of girls. They said stuff like "Suzzy should wear leggings more often," or "Jenny must work at a bakery with all them rolls." The people doing the bullying probably didn't realize they were hurting others besides the one being targeted. All of a sudden you had students connecting these posts to themselves even if they weren't directly addressed to them.

All of a sudden after I read the "bakery" comment I became extremely self conscious. Do people say comments like this about me? Am I overweight because I'm not 6"0' and 120 pounds?

After seeing some of the posts on Yik Yak, I walked from class to class not saying a word to anyone except close friends. The minute I did something embarrassing or said something about someone else, I knew it would end up online five minutes later.

Once teaching staff became aware of the app, they set up a Geofence. The school was able to put this virtual fence up around the school to block Yik Yak up to a seven mile radius. In addition, my school also sponsored NoH8 Week events. Students wore a different color each day to school to represent anti bullying. Some students took time after school to put a sticky note with a positive message on lockers. And my school put up positive signs around the school to help students feel confident. These positive messages helped kids overcome the bullying that was happening.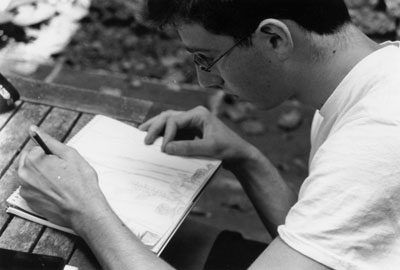 © Kira L., Bethesda, MD