For Fear
December 24, 2013
She puts on a rhinestone-studded jumpsuit. Another flashy outfit to hide behind. No one looks beyond her wardrobe, to meet the girl who's truly there. Scared. No "because," no explanation--just scared. She doesn'doesn't want to face the world, and know what others have to say. To hear the judgment and criticism that pours out from their arrogant lips. Maybe just once someone could say something kind, and hide their disgust at her scars. Just one person that is willing to look past them, and not let the fear and scars define her. Though why risk what you have now, for more hate? She can't. Just mere seconds away from breaking down. Already locking herself away from the world--not the world of love or joy or happiness everyone else seems to know. She hides from the harsher world where hate and cruelty fill the air. Being kind to someone who isn't't perfect, is just too much for society to bear.

She pretends that she's perfect and has no fear, and everyone believes her visage. She carries herself arrogantly because it's societies definition of secure. Though she is anything but. Her whole life she's been bullied for what she can't control. Her scars. Those scars aren't from her, but more so a dreadful accident. Though no one looks past them enough to ask her. It happened when she was young, just old enough to remember. She was sick growing up and it was a hospital accident. Her hospital room caught on fire, on a Christmas eve long ago. That had a fireplace running to give a warm beautiful aire to the poor young children in the children ward. Someone careless placed the tree just too close, and it sparked in the night. While they were all sleeping, with visions of presents, old Santa Claus in his vivid red suit, and his nine brown reindeer all in a row. The alarms didn't sound until the place was ablaze, reds and oranges burning through everything. Imagine she was one of the lucky, who managed to survive, because her immune system wasn't as fragile and her room was closest to the door.

Think before you speak, or even act upon an impulse. For every person has a story behind their beauty or their lack thereof. Don't treat them like any less of a person because of their fear of humanities vileness.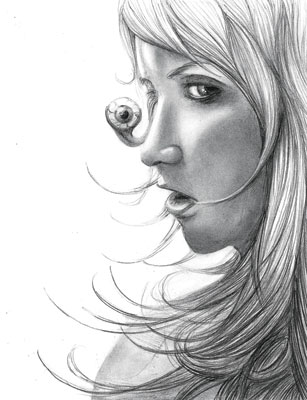 © Jessica P., Bethel Park, PA