Freak
July 14, 2012
Her fingers twitched slightly as the words flowed out in patterns of clickety-clack noises. The perfect chorus to her beautiful symphony. Words… sweet as music. Words… never abandon you. Sighing, she let the tremulous resonance from her keyboard hang delicately in the air. Hot tears looped around the arch of her face. No, she wouldn't cry. Stop it, she told herself, but they did not stop. They poured out like a crystal river and crashed gently to keyboard below. The resonance had disappeared, and she sat there alone in silence, soundlessly sputtering out the emotions she had refused herself to feel. Words. They were all she had left. There was no hate in the worlds she created. Instead, there was innocence and love… "Love"? The term seemed so foreign against her bruised and bleeding lips. To her, there was no love. There was fear and hatred and, yes, words, but no love. They had called her "freak" so many times she believed them. She was no longer Ella… She was no longer anyone. She was a nameless face. A nobody.

Sobbing, she began her typing again. Words… What good were words when no one would listen to them anyway? There was no point to the endless story she was writing. There was no "love". There was only hate and fear and suffering. I am a person. Can't they see that? I have a name! I am not "freak"! I am Ella! Ella!!! Angrily, she slammed down the backspace. She was sick of playing pretend. The worlds she created were not real. "Innocence"? No. There was no such thing. When her story had disappeared she quickly typed out a new story.

My name was Ella. I had friends once. I thought the world was filled with love and kindness, but I found out, it isn't. No one talks to me. They don't know me, but they pretend to. To them, I am known as "freak". Perhaps, they're right. Perhaps, I am a freak. Perhaps, that was my name all along.

My name is Freak, and there is no such thing as a happy ending.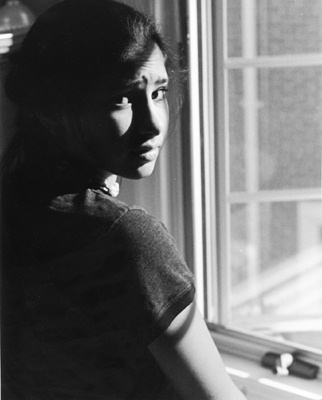 © Jennifer H., Bethesda, MD