Don't Give Up
June 8, 2012
Are you feeling depressed?

Sad?

Suicidal?

You're probably thinking right now that this sounds like a commercial for depression pills or something, right?

Nah.

I know what you're feeling. I've felt it too.

It's that feeling that starts in the pit of your stomach and has no ending. That dark feeling that seems to just fill up your mind and take over your thoughts. Before long, all you can think about is relief. How nice it would be to finally have relief from all of this.

After awhile, you notice a pattern.

The only relief is pain. Right? You've tried everything else, but nothing works. Your only choice is pain… Right?

You don't think it'll ever get better. You'll keep cutting, you'll keep doing whatever depressing thing it is that you do, and nothing will ever get better. That black pit inside your stomach will fill up with self-hatred, tears and pain until you literally will feel like nothing is left in life.

You think nobody likes you. You think that everybody hates you, and nobody will ever want to be your friend.

What's the point of living when everybody you knew to love hates you? Your family is falling apart because of you - everything seems to be your fault and… What's the point of going on when things will only get worse?

That's the thing, though - things will get better. No matter how hopeless life seems. No matter how many cuts are lined down your arm, and how many tears have been spilled.

Life will get better.

Stay strong, because you're beautiful. You're not the only one who thinks so - whether you know it or not, you have somebody who loves you. Somebody who knows what you've been through. Somebody who feels your pain and is going through the same thing as you.

There will always be that popular girl in school who looks down on you and calls you ugly, or the abusive parents who endlessly beat on you for things you never said and never did.

There's always going to be a screw-up somewhere on the road, and you have to take one look at it and walk away.

Don't let it scare you or shut you down or beat you. Walk straight past it without a glare, scowl or tear.

You are loved - if not by anybody else, than by me - and you are beautiful.

DON'T GIVE UP.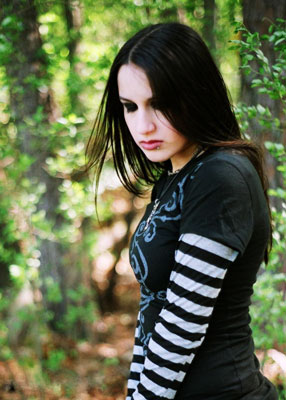 © Rebecca B., Marietta, GA