Spirit Alley
February 9, 2009
There was this cat who used to live in the neighborhood. I'm not sure where it came from or lived, but it seemed content. It had sleek black fur, and a handsome face with an unbelievably long tail that'd flick wildly from side to side. I'd always put a bowl of fish and water out for it. The dishes were always empty in the morning. One day, I just stopped seeing him. I don't know what happened to it, but I think I saw it again today. I don't think I'll ever see it again.

We met on a rainy day. The drops were coming down in torrents and I'd forgotten my raincoat, and my umbrella for that matter. I stepped out of the bookstore swinging a plastic bag containing my precious new purchase. The cobblestone streets were sparkling eloquently from the glow of the stores lining the sidewalks, slick with rain. Rain ran between the rocks and slid into the gullies or gathered into puddles. Kids would pull away from their mothers and jump them, soaking themselves wet. The moms weren't pleased.

I hurried down the street, throwing the hood of my sweatshirt over my head. At least that was something. I was soaking wet by the time I'd cleared three blocks. The rain was falling harder and the streets were deserted. I guess it always gets that way on rainy days. I'd stuffed the plastic bag under my sweatshirt to keep the book from getting soaked. I don't think it helped much anyway, as it was bent and moist when I checked later.

I passed an old alleyway' it was old and horribly so. I don't think anyone's gone down there in ages. All the windows filling the brick walls were dusty and boarded up. Kids called it Spirit Alley. I think there was an old folk rumor about ghosts roaming the place or something. It was when I was walking right past it, that I heard a faint sound. It was squeezed and flat, like when someone forces a sound from their throat. I paused for a second and stared down into the dark expanse ahead. Streetlights didn't reach that far, so there wasn't much to see. The strange squeeze came again and out of the darkness appeared a set of emerald eyes, which inched closer until the streetlamp cast an eerie yellow glow over it, like the faded pages of an old journal. I could see it was a black cat, a skinny one at that. Its whiskers were drooping, tail limp and trailing on the ground behind it. The stark black fur drooped as if the skin was too big for the animal, like it was wearing some kind of cat-shaped fur coat. The creature was horribly skinny; I could see its ribs poking out through a thin sheet of fur and skin. It limped towards me, green eyes scrutinizing suspiciously with caution. I stared back. We must have been a queer sight' two creatures: a human and a cat, having a staring contest beneath a sky full of rain and thunder draping over us like a sheet. The drops slanted across my vision, catching in my eyelashes and making the world blur strangely. The black blob before me had all but evaporated. I blinked. The cat had gone.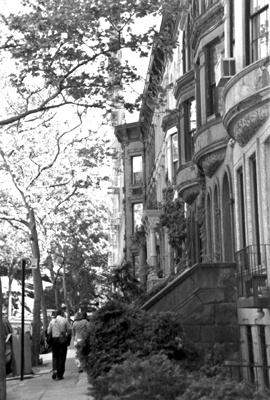 © Sarah M., Phoenix, AZ