Ephesians 5:8
October 2, 2016
Isaiah 59:9-14, Isaiah 9:2, Ephesians 5:8
We walk in darkness.

We wait for the light, for the brightness, the warmth to touch us. We hunger and starve for just one little speck of light to break through the veil that obscures our eyes, our world. We stumble and fall and trip over one another. Our bruised and bloody hands grope for the wall, stretched out before us, fingers reaching and yearning for contact. We grope like the blind searching for something solid to hold on to, to stabilize, to localize. We grope as if we had no eyes; as if our eyes had been plucked from our sockets and thrown into the deepest darkest depths of the sea leaving two black abysses on our pale, scarred faces. Our hearts tell us it is noon but all we see is the night. We know that the day must come but all we see is the night. How must we be alive? For we are in desolate places as dead men with their souls ripped from their bodies and cast into the deepest darkest depths of the sea. We roar all like bears, snared into a trap that digs deep into our flesh, unable to escape, to be free, biting, gnawing at our own bloody foot in the hopes that freedom is one less limb away. We mourn sore like doves with wings clipped and feathers blackened by the dirt and grime of our transgressions, cast into a cage with our songs torn from our throats and cast into the deepest darkest depths of the sea. We look for judgement, for some kind of justice that can deem us undeserving of such torture, such pain, such punishment but there is none. Our hearts search for salvation, for some saving grace to have pity on our weary souls, for the son to shine on us with rays of mercy, but it is far off from us. We're innocent! we plead for our transgressions are multiplied before thee, We're innocent! we cry and our sins testify against us and our accusers we know them all. The keys are dangled before us, the metallic jingle echoing in our throbbing ears. Judgment is turned away backward and we are thrust forward in the darkness, our faces slamming against thick prison bars for truth has fallen and equity cannot enter and our transgressions weigh us down. We sit in the darkness, in the pool of our tears, wailing and crying for an intercessor, a saving grace to end our suffering. We stretch our arms through the bars and grope in the darkness for something to behold, a shimmer, a scrap of mercy that we can shove into our greyed crusted spirits. We pace in the darkness and stumble over each other, our crowded bodies squirming in the blackness like a pit of worms with nowhere to go.
But wait.

We that have walked in darkness now see a great light! It is light! It is brighter than a thousand fiery suns, a billion burning stars. We weep heavy tears but the they evaporate into hot steam of our past hopelessness. Our quivering blackened hands reach up and feel a warmth so glorious so undeniable, a warmth laced with the sweet taste of life. We that have dwelled in the land of the shadow of death, upon us hath a light shined. Our hollow hearts are suddenly filled to the brim, overflowing with this foreign feeling of love. A hand descends and we are each lifted from our deep dark prison. Our sins, our transgressions that clung to our wrists like chains are broken and cast into the deepest darkest depths of the sea. A hot firm kiss is planted on our foreheads and our dead bodies come to life. Our caked on layers of dirt are peeled away revealing glowing new flesh, skin that is pure and raw and radiates an aura of life, of light. We that bathe in the light are marked by mercy and songs of gratitude and praise are pouring from our hearts and off our tongues. We with souls renewed no longer remember the darkness. We with spirits washed lift our hands to the son that has set us free.

For we were once darkness but now we are children of light.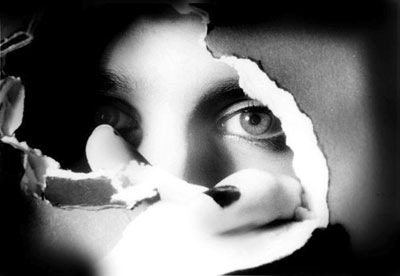 © Tabatha B., Peoria, IL