Welcome to Graytown
August 13, 2016
We heard the sounds of footsteps getting closer and closer were all we heard as we tried to break the barrier.  We pushed ourselves against the wall and threw heavy objects towards it, but nothing worked. Then they were in view.
***** Two days earlier*****
"Jenna come on I want to get to the camp sight before dark."  I told my friend as we walked through the woods.  It was our first campout without any adults and I was anxious to get going.  "I'm coming Caroline just wait."  She responded.  Just then directly to the east we heard a thud.  "What…what was that?" Jenna asked stuttering.
"Don't be such a baby it was probably just a deer."  I reassured her, but it didn't seem to help much.  After all I had to keep telling myself that it was just a deer.  We kept moving though and soon we reached our campsite.  We pitched our tent and made a fire. 
The next morning, we got ready to go hiking.  We set out on our normal trail, but about a mile into the hike I turned left.  "What are you doing we go right here."  Jenna told me.
"Usually, but I am going to find out what made that sound yesterday."  I replied and continued walking. 
"You said it was just a deer." 
"It probably was, but I'm going to find out anyway."  I told her.  She ran to catch up with me, and we walked due east for the rest of the day.  Jenna continually complained how we were lost, and towards the end of the day I started to believe her.  I pulled out my compass and tried to figure out where we were when Jenna screamed.  I realized she was further ahead and I ran.  I saw her standing in front of a town with a sign that read Welcome to Graytown  "Where are we?"  I asked.
"I don't know, but I think we should go back."  She said.
"No, we are going, come on."  I said and she started to protest, but I ignored her.  Eventually she followed me in.  There were stores, and a few restaurants, but what really caught our eye was the lack of people.  No one seemed to be around.  In the center of town we found a Sheriff's office.  We went inside, and there was a tall, thin man sitting at the desk.  "Can I help you?"  He asked in a low, country accent.
"Yes actually, we are lost.  We are trying to get to the Lakeside campgrounds.  Do you know the way?"  I asked him. 
"I do, but it would take you all night to get back there.  Here take this card and bring it to the old Inn just down the road.  Carl will give you a room for free.  Then, tomorrow morning come on back here and I'll give you the directions to get back to the campsite."  He told us.
'Thank you very much, and can I use the phone for a moment?"  I asked and he motioned to the telephone on the wall.  I called my mom and waited for her to answer.  "Hello?"  She asked.
"Mom, it's me Caroline."
"I'm sorry you must have the wrong number I don't have a daughter named Caroline."  She hung up the phone.  I checked to make sure I dialed the right numbers and tried again.  The same thing happened.  Then Jenna tried her parents and they told her the same thing.  We walked out of the office. "The phone must be broken."  I said.
"Yeah that has to be it."  Jenna agreed.  We walked to the Inn and entered.  The man at the desk just stood there watching us.  "Hello, we have this card from the sheriff."  Jenna told him.  He took the card and gave us a key to a room.  We looked at him and he motioned down the hall.  We hurried and found our room not wanting to stand there any longer.  Once we were in the room Jenna started yelling at me.  "Look what you got us into, a creepy town no one knew existed with a creepy name, a creepy inn that we have to spend the night with a creepy caretaker, and a creepy telephone that convinces you that you own parents don't think you exist!" 
"I know that it looks bad, but tomorrow morning we will go back to the campsite and have a great last day at camp."  I reassured her.  She nodded willingly.  We went to bed that night rather quickly because we were tired, but staying asleep was the hard part.  Throughout the night we heard thuds coming from the walls.  The same noises that we heard the first day at camp.  Eventually morning came, and we practically ran to the Sheriff's office.  "Hello it's us again can you give us the directions back to Lakeside campgrounds?" I asked expectantly.
"I'm sorry, but I don't know where that is."  He told us.
"Yesterday you said to get a place at the Inn and come back today for directions." Jenna said frantically.
"No one was in my office yesterday."  He replied.
"Come on Jenna we will find the campsite ourselves."  I said and started walking towards the exit.
"No one ever leaves Graytown!"  The sheriff yelled.  He stood up and turned as gray as the town.  We started running.  As we ran towards the end of the town more and more undead citizens started chasing us! There had to be over two hundred of them.  We made it to the border, but it wouldn't let us through. A blue wall appeared every time we hit it along with a thud.  We grabbed as many objects as possible trying to break the border, but it didn't budge.  Suddenly the undead citizens surrounded us.  "You can become a permanent citizen right now."  The sheriff said in his low voice.
"Never!" I screamed.
"Oh its not so bad Caroline.  I have became a citizen on our last camping trip."  Jenna said turning gray.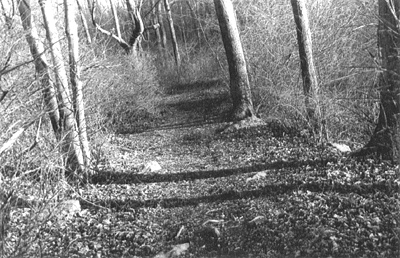 © Nicole N., Wilton, CT