Regret Wears Black
October 12, 2014
My father's dying wish was that I should be queen. He meant for me to use his last breath as a stepping-stone to my heart's desires, but he could not have cast a more dreadful curse. Dear reader, I am Queen Diab of Amr Qatan; I am the Queen of Regret.
I am my brother Shahd's senior by two years. At our father's deathbed, his tears were not genuine. He wore the cloak of mourning with underclothes of red silk and adornments of ruby and jade. He walked the path to burial with a spring in his step. The twinkle in his eyes as he sang the burial song was not the liquid of grief. He carried the clothes of power, the gait of strength, the eyes of greed. I was to carry the crown.
Sleep did not visit often after Father's passing. Eyes in paintings followed me down the halls. Decorative scimitars seemed to leap menacingly from the walls. A guard passing through a corridor became, to my eyes alone, a plotting assassin. The evening meal was the most awful time of the day. Shahd and I would glide to the table, each mirroring the movement of the other. We would sit and engage in brief conversation. Mine was tactful enough to sound secure. His was polite enough to sound threatening. Soon, I would think. Soon he is going to kill me. Soon I will need to kill him.
Did he feel the same threat that he was sending me? By day was he followed by his specter? At night did he sleep with his sword? If his ghost was not behind him, it was surely following me. Shahd Living and Shahd Dead were one and the same. The moon eclipsed the sun, and the sun did not reemerge.
Stars have a peculiar way of influencing the ways of men. They were particularly bright on the night marking the sixth month after Father's death. As I shed my black garments for the last time, I unstrapped my dagger belt and laid it on a table. It shimmered with the macabre glow of any weapon. Suddenly I knew tonight was the night to kill or be killed. Tomorrow Amr Quatan will have a new monarch and a new grave.
I retied my belt with a sense of urgency I had not possessed that morning. With my hand on the hilt of my dagger, I strode forward towards my brother's room. Halfway to my destination I crossed an armed man walking earnestly in the direction of my bedchamber. Half a minute more and I was there. I slipped in silently and beheld his face by the light of the stars. One step to the window. Two steps to his discarded weapon. In three, I stood at his head with my dagger pressed to his neck. I count the act itself as a step. Step four was a deed of the mind more than a movement of the body. I will wear black for my coronation. Father and Brother, may you rest in peace.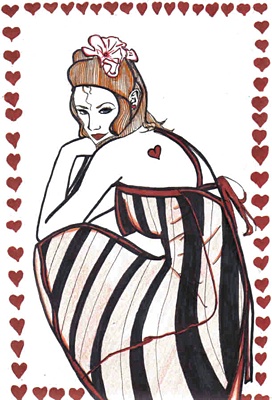 © Sara D., Aiken, SC