We're Not Out Of The Woods Yet
May 26, 2014
It will be twelve months in exactly one hour and fifty five seconds; that's three hundred and sixty four days ago since the day I first laid eyes on her.

The heat radiated from the midday sun like our small town was a sauna in the middle of a desert; it glared down, consuming us all with its rays. I looked down from admiring the beautifully clear sky catching her in my gaze as she crossed the street. She was glowing as she strode along in her flowery dress, her skin looked so smooth and soft it deflected the rays of the sun with her own graceful radiance.
I had planned to leave the coffee shop I was sat in, but I could not help but remain seated, my eyes following her. Bemused by my sudden fascination, I sympathised with myself that it was surely natural. Any man could not help but stare at such an angelic creature. She was dainty and bubbly, bouncing and full of joy despite the exhausting heat. She wandered into the hairdressers across from me as I peaked over my newspaper from my window seat. To my fortune she was sat down by the window. I could not help but gently sigh as she relaxed into the seat with such calmness and purity, just watching her was soothing itself.
I often glanced over my glass as I sipped, gazing with intent to find her through the gaps in the pedestrians as they walked on by. I was sat there for over an hour, and it felt like an eternity. My blood was rushing around and around. I almost felt dizzy; light headed with sweaty palms. It was never a good sign in this weather, but then, it could have been nerves.

Just one more hour, that was all I asked, that was all I prayed for. Just one more hour, to say that I had a relationship that lasted a whole year. We were so nearly there, she did not realise how much it meant to me. She did not realise how much she meant to me.

My youth was never to be one of love or joy, it was painful and loveless, and every relationship died in an instant. Only as I reached maturity did I finally start to meet my kind of girls. Even then, it just never seemed to last; but this one, she was special. I could tell from the moment I laid eyes on her.

I remember how my heart raced as she walked towards me. She merely walked into the coffee shop, but it was enough to rattle my throbbing heart inside of my rib cage. She was stunning, wearing her new and fresh hanging blonde hair with long twists and curls that bounced as she walked; it was almost the cherry on top of the purest vanilla dessert. My teeth clenched, tensing to hold onto my jaw, preventing me from gawping and drawling. Everything about her just seemed to glow, like the heavens had opened to send a ray of light down to guide me to her. The cherubs lifted me, holding me up on my shaking legs as they walked me towards the queue she had joined. As I approached her I felt cupid hovering above me. I prayed for their help to continue as I reached out to her. She turned! She was smiling at me. My heart had completely melted. The cherubs had left me though, abandoning me in my time of need.
Looking back on that day I must have seemed like some sort of stranger who mumbled a lot. Alas, here we are today; even if it is to end.

She was going to go; move away and leave me behind. Her career was taking her to new places, for a new life, for new adventures and excitement! The only cost was me.
I felt betrayed. It was a week ago I found out, and she had already finalised all of her arrangements, her mind was very clearly made. I could not stop her.

I drove her out to the woods for our final date, our final farewell and goodbye. I helped her out of the car and we wandered slowly into the woods. It was just like the day we had met, the weather was wonderful with the clouds gone and the sun high in the sky. I had a good feeling about this day, it was going to be memorable. Although I knew it was to be our last, I could not help but smile at the moments we shared. It was a tiring walk as we went deep into the forest, loosing site of the car completely. We were on the outskirts of town and nobody would find us, it was ever so peaceful, naturally adding to the romance.
On top of the forests peak you could see our local town and how it stretched across in its glowing glory. We sat there on the hill for half an hour just staring out at the view, watching the sun disappear from the day as night closed in around us. As our time came to part I took her back, heading towards the car, but my emotions were getting the better of me. I wiped my face as the tears began to roll down my cheeks. My stomach ached and churned as the moment came. I had to say goodbye at some point, but at least I could still stall for time. Just a little longer to see my love.
I had us sat down in the dirt and earth beneath us; she was still so beautiful, so young and fresh. Her body was so free, her limbs loose and elegant, but I could see how it hurt her to see my pain. Her skin was cold and pale as the cold of night swept through the woods. Her head was bowed unable to look at me, whether it was because of the fear of leaving or hurting me, I do not know; I just held her face and tilted her head back up from her chin. I looked into those cute shining brown eyes as she did so to me. We were just sat there, innocently staring, but we were at peace, alone and in the tranquillity of the woods where no one could disturb us. Time seemed to drift by. My stall had worked, but it could only last so long.

Two more minutes, then I would have achieved my ambition. Two more minutes and I can be free of my torment for endlessly failing in my relationships.
We sat there, and I thought of how we had spent the past twelve months. I remember the late nights out as we walked back to your house. I remembered how I would climb up to meet you at your window. I remember how I would stand outside waiting for you, come rain or shine. I remember the days out we had in town, at the cinema or going out to eat. Those times were so magical, and I would never forget them.
The time had come. I whimpered and started muttering to her under my chocked up voice "Goodbye my love, I cannot bear to see you go, to leave and turn your back on me forever, but you must. Go and be free. Go where you belong. Goodbye. Goodbye my sweet, sweet angel."
I held her head softly and leaned in to kiss her forehead. I could not bring myself to touch her lips, for I would fear her suffocation as I would never let go. For her sake, I had to let go. I had to. I stood up and let her hands go. "Goodnight my love." Her head rolled back with her hair dangling. Her body followed as her weight pulled her back. She fell backwards laying down into the pit we were sat it. Her cold pale corpse laid in her amateurishly dug grave. Slowly I began to shovel the earth on top of her as I recited words of prayer and good will. At least it was a peaceful send off.
I was proud of my achievement, we had made it to that one special day, it was our anniversary and finally I was free of my curse to ruin my relationships. I had finally had a long term relationship. Now nothing can get in the way of my happiness!

I walked back to the car, placing the shovel in the boot from where I had helped her out. The drive back was sad, but happy as well. I knew I had done the right thing, letting her go like that. My angel was just too good for me. She was too good for anyone.

I wandered into the apartment pleased with my accomplishments. I was proud that I could let her go. I will never see her again, but for her sake and her future I had to let her go. I sat down in my armchair staring at the large wall with a massive collage of photos and mementos as wallpaper. I could remember where each came from. It all spanned over the past year, detailing every event and memory.
I remembered the late nights I followed her home. I remembered what she used to do in her own apartment as I peered through her window. I remember how I used to stand outside just waiting to see a glimpse of her. I remember how I followed her to see the same films, to eat the same food, to buy the same clothes. Then she tore it all away from me!
I overheard her excitement on the phone as she organised the tickets to move far away. Her apartment was already being filled with boxes; her possessions hidden from the world and confined to claustrophobia. My heart was in pieces. She didn't even tell me about it!

My relationship was over. She was at peace, and so was I. At last I was free from my inability to maintain a relationship. I sat in that same coffee shop with a smug grin on my face. I was gleaming in my own pride when suddenly the heavens opened once more and a beautiful perky young creature walked in. She was bubbly and joyful with a twinkle in her eye. I walked up behind her and tapped her on her shoulder. I struggled for words, but she turned and smiled at me; she must surely be the one for me.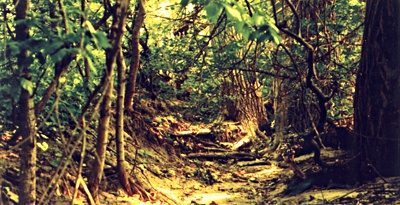 © Dan B., Papillion, NE