The Washing Machine
January 7, 2014
A few years back I moved into this house with my family. It was a nice looking house with three bedrooms, two bathrooms, a nice kitchen and living room, and an attic. Along with the house, came some things like furniture, and a washing machine.
We moved everything in, and started to settle in. We left the furniture where it was until we knew what to do with it all including the washing machine.
One morning, my mother made my brother, sister, and I lunch for school. The bus came to our house and we left to go to school. When I arrived to school I knew nobody. All the other kids looked blankly at me as the teacher introduced me to the class, then lead me to my seat.
"That girl lives in the killer house!" Said a boy who was staring at me.
"You mean that house that's haunted? Oh she is doomed." Whispered the girl sitting across from me.
I just ignored them the rest of the day as they talked nonsense about my new home. I just went along the day with nobody to talk to and nothing to worry about.
I got home after school and I ran to my new room to play with my dolls. My mother was out at the store gathering things for dinner and my father was still at work. My brother and sister went to a different school than me so they would come home on a different bus and at a different time, so I was home alone for the short half hour.
I sat in my room with the door shut, playing with my dolls. I started to hear weird noises now. Banging, raddling, and creaking from down the hallway.
"Mama?" I called out standing up. I reached for the doorknob and turned it, opening the door and poking my head out into the hallway. "Mama?" I called out again, but there was no answer.
I took a few steps out of my room and into the hallway. I looked around, but to see nothing.
SCREECH!! A loud screeching sound came from down the hallway. I fell onto the floor and cried for my mother to come; I was afraid of being alone. The noises grew louder and louder, and I heard the sound of running water. I cried out again but this time with the sound of fear in my cry.
My mother opened the door with a bag full of groceries in one arm. When she saw me sitting in the hallway crying she dropped them and ran to me.
"Sweetie what is wrong?" He picked me up and held me close to her, coddling me.
"Mama. Monster out to... get mee." I said in between sobs. She gently wiped away my tears and told me that there is nothing to get me and that I was safe with her.

It is dinner time now and everyone sat at the table. Mother made dinner and I helped with setting up the table, and everyone was happy.
"So, how was everyone's day today?" asked my father.
"Great!" Answered my sister Kelly.
"Terrible, why did we have to move. I don't like it here." Mumbled my brother Andrew as he crossed his arms over his chest.
I sat quietly eating my supper as my father lectured Andrew.
After dinner I got in my pajamas and got ready for bed. My mother tucked me into my bed and kissed my forehead good night.
I had a dream about this house. it was the worst nightmare ever! I felt like I couldn't wake up, until I did.
I was in this same house with everything the same. I got out of my bed and walked down the hallway and into the kitchen; everyone was seated at the table, except me. Their mouths were open and the inside was black. Blood pored from their eyes, nose and mouth as they sat at the table. I stood there looking at my dead family.
I heard screams and running water, gurgling and thrashing sounds like someone was struggling in something. I walked to the closet that had the washer and dryer in it and I opened the door. Blood was leaking out of the washer and onto the floor. I looked into the window of the washing machine.
SMACK! A face got smashed into the window and looked at me, more blood poured from the washer and onto the floor. The face was thrown away from the washer's window and thrown violently back and forth in the machine. I back peddled and fall onto the floor, I landed against something and it was dripping onto my head... I slowly looked up and saw my mother towering over me. Blood dripped from her mouth and onto my forehead. I woke up before she got me.
"Whats wrong sweetie?" My mother sat next to my bed. In the moonlight she looked pail and her eyes looked like empty sockets. When I saw that it reminded me of the dream I had, and I screamed in terror.

I swear, something or someone was telling me something about this house. But I was just a kid. I had no clue what meant what in the world.
Days passed by and I didn't speak to anyone. My mother tried to calm me at the time I was afraid, but it made me even more scared. after everyday of school I hide in my closet and do my homework. My nightmares stopped one day.
Everything went back to normal, I as happy again and talking. But I dare not go near the closet with the washing machine in it.
One day after school my brother, sister and I were playing hide and seek. I couldn't find a good enough place to hide. That is, until I stood in front of the two closed doors that went to the closet with the washing machine in it. I open up one of the doors, and then open the washing machine and before I climb in I shut the closet door. I close the washing machine door and hide there until my brother finds me.
Beep, Beep, BEEP BEEP!
I hear the sound of buttons being pushed. Then the sudden flow of water. Water splashed onto my face and into my mouth. I choke on the water and drown. The inside of the machine where I'm sitting in starts to spin. I am now being thrown around violently. My face smashes into the window and I see three kids the same age as me in the reflection. They are all beaten and bruised, and battered with blood. These kids are the same as me, I am not the last as you see. I am just the beginning.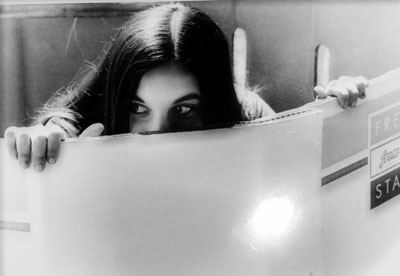 © Sarah S., Winter Park, FL