So Called Safe Haven
February 18, 2013
Sun beams peaked through her window as she squinted through her quilt. She didn't want to get up, but she didn't have much choice. The girl, the oldest, dragged herself out of bed and slid across the wooden floor boards across the hall.

The girl knocked gently on the door, but heard no answer. She slowly turned the metal doorknob that felt cold against her palms and pushed the door open with her hip. Her younger brother, only five years old, was stuck in a sweet slumber. The girl shook the boy lightly and he gradually roused. Soon, he was jumping out of bed with the same energy any five year old should have. The girl, on the other hand, had half as much energy the regular sixteen year old should, despite the laziness a normal teen is almost certain to have. That laziness, the girl could not risk having, because she didn't have the time anymore.

The boy resembled his mother majorly, as did the girl. They both had the same hazel eyes, same nose, and same smile. The boy also had his mother's strawberry blond hair while the girl had her father's raven black hair. The boy didn't like to be told he looked like his mother because he insists that since he's a boy, he should look like his father. So everyone tells him this so he won't start whining, but none of them think so. His sister has repeated many times that he should be proud to resemble one of his parents so closely, but he strongly does not, so soon she simply gave up.

The girl left her brother to dress while she prepared for yet another long, enduring day consisting of who knows what. After she had a sweatshirt and jeans on, she put her hair up in a ponytail and stepped outside.

A cool breeze slammed her straight on and she felt relieved that she remembered to put her hair up. The sun was just beginning to rise and the sky was exploding with an assortment of colors. The girl breathed in the smell of nature. Recently, this was the only place she felt she was safe. No one would find her here. Her family lived in the middle of nowhere and a scarce number of people knew where they were, and it was seldom anyone visited, except for the occasional relative.

This was the safe haven for the girl and her brother. They needed the protection, not that the boy knew, and he wouldn't if his sister could help it. As far as the girl knew, she was the only person who knew that both of her parents have been missing for the past two weeks. Even if anyone did, she doubted that they would know of her and her five year old brother and where they lived. But she didn't know of the man who was hiding in the woods just a mile away from her and her so called safe haven, and she didn't know that he would be making his move on her brother and her that very day. Despite all she does know, in reality, she has no idea what's soon coming her way.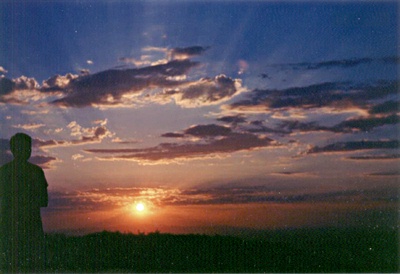 © Jovee B., Dededo, Guam