Dan the Ripper
December 22, 2012
Daniel Anderson woke up to his alarm on a Monday morning for work just like everyone else. He rolled out of bed, and stumbled down to the kitchen to retrieve his coffee. He would then make his morning commute to his job in the city. It was an uncomplicated accounting job. Dan didn't mind it. He liked numbers in school, and figured that he would enjoy an accounting position.

He didn't have many friends, just three or four middle-aged men, that he would only see when they played poker together on Sunday nights. He never won much, if anything at all. He figured that he would take what he won, and start a family, like his friends. That wouldn't happen, though. Dan just couldn't seem to find the right girl. Almost every night he would try new bars, go on singles night, but no one seemed to catch his eye. Even when he did seem to hit it off, he would wake up in his bed the following morning alone, and have no sign of her number.

Some days he would sit and work in his garage, and notice that he was again missing some tools. One time, he even lost a kitchen knife. Each time, he figures that he's just forgetful, and buys whatever he lost. He also finds that he runs out of gas quickly. He would fill up his car one day, and the next, it would be half empty.

Of course, there is a logical explanation for all of this. No aliens, magic, or superpowers. Dan is a serial killer, and a good one at that. He has enough friends for an alibi, but not enough to get in the way. His job is pure calculation, nothing to prove is fantasies for murder, or ability to carve up and dump a body. In actuality, his career is perfect for selecting victims. As for the ones that got away, they didn't get away at all. Most of them were whisked away downstream.

That is where all of Dan's gas went. There was a nice isolated spot outside of the city where no one went, and no one looked. His little hiding spot was so good in fact; the serial killer that the police were looking for was thought to be in the next city over. His environment was utterly perfect for his sick mind to thrive. No one would suspect Dan as psychotic murderer, and if anyone did, all he had to do was tell a clever lie, and everyone would believe him.

Why would Dan do this, you might ask? All pain starts with just a spark, and his was very small: a break up. That was all it took. It was indeed the straw that broke the camel's back. All he craved was give is ex what he felt she deserved. He wanted to tear out her heart like she had done to him, but she left. Gone to God knows where. She was out of his reach. Dan's fragile mind just couldn't take the pain.

That was when the killing started. His friends told him to go out and meet someone else, when all he wanted to do was kill, and kill he did. He chose to do it quietly, covertly. That poor girl was victim number one. She was only the beginning.

Before you jump to any conclusions, don't be so hard on Dan. It isn't his fault that he's a homicidal maniac. You see, Dan's brain is a very special one. It protects him in ways our minds never could. When something tragic happens, it erases the memory completely. Whatever you do, feel sorry for this character. Daniel Anderson is a serial killer, and he has no idea.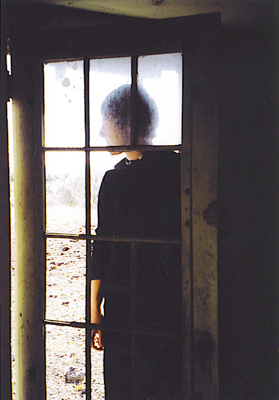 © Lindsay S., Billings, MT