The Chair and the Tower
November 21, 2011
Bound, and gagged. This is the situation in which he finds himself. His chair – secure, yet oddly precarious. He is unaware of why his chair is so very dangerous, of that I am sure. Oh, I set it up so perfectly. Not once at the party was he able to see my face, my eyes hidden beneath a very obvious top hat; not once could he detect the sedatives I slipped in his drink, nor the smile that slipped on my face. And now, not once will I listen to his pleas for mercy. Not even once.
Did he ever hear me? Did he ever listen to my cries of pain? Did he, cold and calloused, ever think beneath the knit hat that hid my face there were tears, tears of sadness and loneliness? No – not even once. But now, now it is my turn; I hold the power, and I am in control. Not him. He is no longer the captain; I am no longer the weakling. The boy he hunted, that boy has become a man. Moreover, that man has become the hunter. I carefully, ever carefully laid my trap and now look – he cannot even hope to escape. Not even once.
He will not take a state championship, and he will never get married; in fact, he will not even see his parents again, not even once. They, however, will see him. Everyone will see HIM. This will be his last chance to be the center of attention. Does he know why? I do. Because when I give his chair one little nudge, bow my head, and tip my hat to him for the last time, off the clock tower will he fall. He will hit the ground – but only once.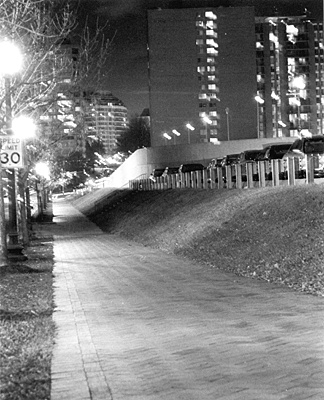 © Alicia S., Bethesda, MD