HELP ME
October 1, 2011
Why, why, why, why WHY?!??!! I thought. Why did they have to come after me? I was on the forest floor waiting to die. They were behind me. But let me start from the beginning.
My name is Zaya. I was sitting at home; if you think of home as a mean foster mom and nice foster dad who are never home, in my attic room staring out the window. My Phone beeped. I looked at it and nearly screamed. The phone number was unknown but the message was all too familiar. My mom had gotten the same one before she went missing. The message said: We know your address. There is no use in running. We will find you and KILL you.

**********


Zaya got into her car and started driving. She had no Idea where she was headed but it was better than getting killed. The airport! I have to catch the first flight out of here using the emergency money she thought.
MEANWHILE……….

Where is she?? Dante wondered. The clock was chiming one. Suddenly his phone rang. It's her he thought excitedly. I answered the phone. "Hello?"
"I NEED HELP" Zaya screamed into the phone. "I'm coming! Meet me at the cafe" He ran to his midnight blue sleek custom made Audi. He was Nowhere near rich, he had save up for that car since he was 7. The engine whirred to life.


He drove as fast as possible. Dante saw the familiar Neon green sign and swerved into the parking lot and parked. He burst into the café and immediately saw Zaya. He sat down with her. "They found me," Zaya whispered. Her voice was so quiet; it could have been a small summer breeze.

*********

"Come with me, somewhere we can talk in private." Zaya nodded and followed Dante to his car. They drove out to the creek that they always went to. The two of them sat down on the tree stumps. "What do I do?" she cried. Dante thought for a moment. "How did they find you?" Zaya bit her lip thoughtfully. "I think I led them to me. Remember when we went to the lake a few months ago? There was a man there who was on a case where a woman named Evelyn disappeared. I said that was my mom, and he smiled. After a while, I noticed him in the weirdest of places, at the mall, at the store, it was weird. He was following me." By the time Zaya had finished, Dante was up and pacing. How could she be so stupid? He thought. Nobody was supposed to know about her mom, yet she goes and tells a complete stranger. "We got to run," When he saw the hesitation on her face, he got frustrated. "Now!" He snapped. Thunder rumbled in the distance. Rain started pouring upon them. In a matter of seconds, they were soaked to the bone.
First Person

We got up to get into the car, and we heard a twig snap from behind. Oh no! I thought. This is it. Before I could say anything, Dante fell to the now muddy ground. I watched in horror, as if I was paralyzed. I couldn't breathe or blink. My legs started to hurt, then my arms, and finally my head. The world got darker, and I fell to my knees, trying to stop it from overpowering me. Finally, I gave in, and the cold engulfed me.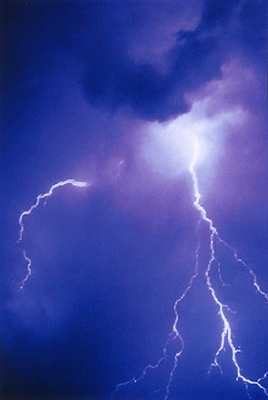 © Steve A., Goodyear, AZ