Into the Nothing
June 9, 2011
I tried to warn her. I told her not to go, but she wouldn't listen to me. Nobody ever does. My name is Peter. Yesterday, my girlfriend Maddie went into a creepy old house on our street. She hasn't come back.

We call that house "Hell". It is like that one house on your street no one ever disturbs. But, Maddie didn't listen to me. She still went inside. I'm still waiting. She could be dead, but I really have no idea.

Last year, little Timmy went into "Hell" and never came out. Five days later, his body was found in the back yard. He was dead. His body had been ripped into two pieces. The police checked inside the house, but they were unsuccessful at finding anything that could explain Timmy's death. No hair, clothes, or DNA of any kind was found in the house. The house was clean, except for Timmy's body in the back yard.

That is why I am worried for my girlfriend. I fear that she too will suffer the same fate Timmy did. I just wish I could see her one last time. I should go into the house and check it out. At least try to find her. She means everything to me and if I were to lose her…

I opened my front door and waited outside "Hell" beckoned to me. It called my name. "Peter…Peter come uncover my dark secrets." I walked slowly toward the gloomy house. Lightning flashed above it, shedding some light on its face. The face of the Devil. I began to run as I got closer. I needed to know if Maddie was alright. I needed to make sure.

When I made it to the door, I slowly pushed it open and it creaked. A bat flew out of the house and I slipped inside. Dark secrets. Time to find them. I looked ahead of me and I saw Maddie lying on the floor and I ran to her side.
"Jake…" She moaned as she stretched her hand out to me. She was dying. "I'm dying Jake; leave me for him to take me."
"Who? I won't let you die Maddie."
"The Devil, he owns me now." She said, pointing to a painting of Satan himself.
"Welcome to Hell, Jake." The devil hissed, and the front door shut behind me.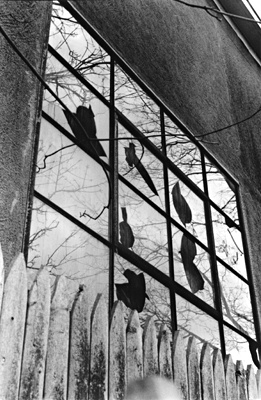 © Halsey S., Marblehead, MA