The Figures
May 8, 2011
He stood before the crowd and bowed. There was no sound, no clapping, or whistling, not even an uneasy cough. He straightened and walked through the heavy curtain backstage. He turned to the swaying fabric behind him, waiting for the uproar of applause he needed. It didn't come. He sighed. Turning, his eyes fell on the dark figure, nothing was visible but the white of its eyes and smile.

He hung his head for a second, then looked up at the figure, hoping it would be gone. It wasn't. the smile looked wider than before, as if the figure knew that his hopes had been crushed for a second time just by looking up. Again he sighed and moved toward the figure.

"I know. You told me, 'they won't be entertained.'" he said.

"There was no lie. They come to your show to see lies." Neither the figures lips nor teeth moved as it spoke.

"I expected them to be amazed." he said. The figure's smile broadened, and became impossibly wide.

"They were. But they were also frightened. They will forever remember the day that all they knew was proved wrong." The figure moved further into shadows, though the eyes and teeth did not lose brightness. "They like knowing it's all fake, that what you do isn't any more than parlor tricks."

He took a step forward, into the shadows where the figure had been. "But wouldn't they enjoy knowing that they could do what they had previously thought impossible?"

The figure retreated deeper into the shadow, and he followed. "They are comfortable where things have boundaries, where things have definition. What we know, what we do, what we are; it all belongs in the shadows. We all try to show them, eventually. We all end up where we belong, eventually."

"Where we belong?" he asked.

The grin widened even more. "In the shadows."

He turned and ran toward the center of the stage, but could not advance. Across the stage he saw the mirror. But not his reflection. Instead he only saw two figures in the shadows, two sets of eyes, and two sets of smiles, one much wider than the other.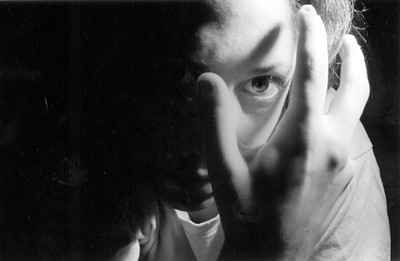 © Julie S., Marblehead, MA