Invisible
November 28, 2010
Brittany Tisdale is striding down the hall, taking my breath away. Her blonde hair swishes around her shoulders, her smile sparkles like a thousand diamonds. Her clothes fit her perfectly, accentuating her curves without making her look like a – no. I won't even say that word in a sentence describing her. She is too amazing, too perfect.


But too good for me. Me, the scrawny, bespectacled freshman with a voice ALMOST as deep as Justin Bieber's. Everyone acts like I'm invisible – a nothing - and she's no different. I don't even think she knows I exist.


After she passes I take a deep breath, purposefully inhaling her Aeropostale perfume. I walk to my locker, intending to lighten my backpack a bit, but once again somebody is blocking it. I square my bony shoulders, mustering the 4.7 teaspoons of courage inside of me, and stand in front of the beefy boy keeping me from getting to my locker.


"Erm, exCUse me." I mumble, my voice cracking in the middle of 'excuse'. The guy doesn't even look at me. Just like I don't exist. "Hello! Can you move?" He doesn't pay any attention, like I'm a little brother he's hoping will give up and go away. I'm mad now. "Yo! Can't you even look at me!!! I exist!" I scream. "I exist! I exist! I – Michael Rees Harlenson EXIST!!!! Will someone just LOOK AT ME!!!!!" Tears are running down my face. Finally the rude kid in front of my locker moves, done torturing me. My hands are shaking so badly I can barely dial the lock. Why does everyone hate me so much? What did I ever do to them? Hopelessness filled me, but I finally succeeded in opening my locker. When I did, however, I was frozen with shock. My locker was empty except a newspaper clipping, dated exactly one year in the past, obviously placed as a remembrance of sorts. I picked up the clipping gingerly, not believing what I was seeing.


********************

Local freshman, Michael Harlenson, was killed in a tragic car accident last night. A drunk driver cut across the center line, and the car young Harlenson was riding in spun out in an attempt to avoid collision. Harlenson's mother and younger brother walked away with minor injuries, but Harlenson was killed instantly.

Those who went to school with Harlenson remember him as a kind, compassionate spirit, always eager to help others. He is said to have been good natured, and, quoting cheerleader Brittany Tisdale, he was 'The guy that was always in the background. He never wanted the spotlight, he never caused a scene, but he was always there.' Here Tisdale paused for a moment, tears running down her face. 'I loved him. Everyone did. But nobody ever told him. I guess we always thought he would be there. Or maybe we just thought he knew. I just miss him so much.' Brittany's sentiments are shared by the other students, who continue to mourn Harlenson's death. He will be remembered.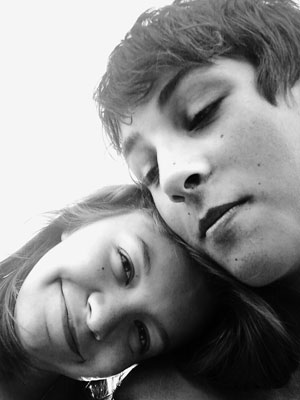 © Mollie D., Stacy, MN