Do You Believe Me?
July 12, 2010
3 years since I met Alec. One secret he hid. One love he crazed for. One person he fell for. One life he chose. One heart he picked. One true love, who loved him back.

" Alec, you there?" Hayley knocked on his door one last time before giving up.
"One minute, Hayley!" Alec yelled before opening the dark red door.
Alec quickly hugged Halyey before they went inside.
Inside, the room seemed dark. The seats were a deep black while the floor was dark brown wood. It felt warm and it felt more like a home should feel. Exept, a really light room felt just the same as a dark one.
" Hayley, are you hungry or anything?" Alec asked her. It was polite and all. But he didn't have to say anything. Or did he have to? This was Hayley's first boyfriend and all, anyways.
" No thanks, I actually ate before I got here."
" Good, because I suck at cooking." They both laughed. Then Alec's face went serious.
" What's wrong?" Hayley asked, Confused. Did she, do something wrong?
" Hayley, we've known each other for a very long time," Hayley did not understand where he was going with this. " I need to tell you something very important. You cannot tell anybody else. I trust you enough to keep this a secret."
Alec was very serious at this point.
" I won't tell anybody." Hayley told Alec.
" I'm a demon. I know your not going to belive me. But I can prove it, I swear." Alec was afraid she wouldn't belive him.
" Alec, could you show me how your a demon?" Hayley said very quietly. She was a little afraid.
Alec took out a box. A small metal box with a little opening.
He opened the box, and a creature came out. About the hieght of a pencil. It was furry and purple. It crawled right up to Hayley's ear.
"Belive, Hayley. Belive master." The little creature wispered.
" Do you belive me?" Alec asked with a smile on his very face.
" Yes." In that very moment, Alec pulled Hayley closer to him, and they kissed.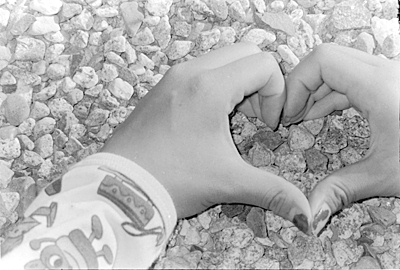 © Caitlin T., Marblehead, MA