Spooky Subway
June 7, 2010
I stared wistfully at the back of my retreating friend. We had just come from seeing a play – Sweeney Todd – and I had offered to walk her to her subway platform after. It was late, though, and I had to get home, so I hurried down the stairs to get the B/C train. And what luck! It was right there! The doors started closing, so I all but sprinted to the train, trying to shove my purse into the closing gap between the doors. Unfortunately, I got there too late and the metallic structures remained firmly sealed. I pounded on the door, desperate to get into that train. I don't usually do this, mind. I just had a weird feeling on the platform and I needed to get home.



"Please! Let me in!" I screamed, hoping that the conductor would be able to hear me and let me on. Slowly, the subway pulled away, having ignored my pleas. I slunk away from the now empty tracks and realized, with a start, that I was the only one on the platform. Oh. That's why the paranoid sixth sense thing kicked in before. A nervous laugh escaped my lips. The 96th street station was always busy with bustling people trying to push their way through the crowd. Who knew that ten blocks could make such a difference in the amount of people! Just to be sure I was alone, I walked down the platform, squinting my eyes to see if I could find anyone, possibly shrouded in darkness. My soft steps echoed grotesquely around the large station. It was unusually dark, even for a subway platform. Wooden benches, worn from multiple people sitting on them, remained bare, and seemed to mock me as I walked by. There wasn't even a hastily dropped newspaper fluttering around. Not even a rat or cockroach poked their heads out in search of food. I sat on a bench and waited, fear creeping into me with every passing minute.



Rumbling, a train came down the tracks, blasting stale subway air. It was a B train, thankfully, and I got on quickly, ready to leave the deserted platform. After sitting down, I noticed something odd about the subway car as well. It was desolate. I felt my eyes widen and my muscles tensed instinctively. Feeling super shaken, I ran to the car in front of mine, but empty seats were the only things I saw. The car behind mine was the same way. I sat back in my car, glancing around nervously. 79Th, the next stop, didn't let on a soul. I didn't know if it was a sick joke or not, but I was really starting to get paranoid. Especially because I just came from a play where a psychotic barber kills people for fun.



"If nobody gets on at 59th, I'm getting off," I firmly told myself. I was at 66th, and still nobody got onto my car. As the train pulled into the 59th street station, I prayed for somebody, anybody really. Even if that person didn't acknowledge me, it would still be comforting for them to just be there. I didn't want to stand on another empty platform at 9:45 at night.



The train pulled in to the 59th street station and I sighed in relief; there were people on the platform! It didn't look like anyone would get on, but then a homeless guy drunkenly staggered onto my car, reeking of alcohol and cigarettes. I took back my prayer for anyone to get on the train with me having this guy as my train-mate creeped me out much more than being alone. He glanced around furtively, pressing myself to the seat as I took deep breaths. Thankfully, though, he turned around after he got halfway in the car and stumbled his way out, dragging tattered cloth behind him.



I was still shaken from the encounter with the sketchy homeless guy when the train pulled into the 42nd street station. People walked on the car, and I let out a breath I hadn't realized I had been holding. The rest of my trip home was much less eventful.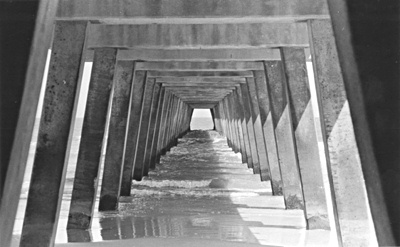 © Megan S., Marblehead, MA