Hostage: Origin of a Killer
February 13, 2010
My name is Mr. Thompson. My first name is Jason. I am a kidnapper and killer. However, I wasn't always like this. Here is my story.


1977, 33 years ago

I yawned as I rolled from my soft, warm bed. School. I hate school.
"Jason!" my obnoxious mother yelled.
"Wh--" I managed a mumble.
"Get down here please." she said.
"Hmm?"
"Did you read your bible last night?"
"No, Mom, you know I wouldn't read that even if someone gave me a million dollars."
"Well--" My mother started a reply, and I pushed her down.
"I'm gone, Mom. I'm going to get packed."
"You can't just leave! You have no where to go!"
"I don't care." I told her, and I walked with haste to the kitchen. I grabbed a cleaver from the silver, magnetic knife holder and sauntered back into the living room where my mother stood.
I brandished the knife and she made a break for the door.
But, my outstretched arm caught her in the throat. I then ran to lock the door.
My mother groaned and I walked over to her.
"I've always hated our religion, mother, and you should know that by now."
I raised the shiny cleaver and brought it down as if I were swinging a double handed axe.
The blade entered her stomach and she jolted. I grabbed a pillow from the couch and put it on her face. I held it firmly against her as she kicked and flailed. I was smothering her.
After about a minute, she quit resisting and I released the pillow from her face.
My mother was dead. Ice cold now. All the blood had drained from her once pink face. Her eyes were still open. I didn't bother to close them.
I slipped out the door with my backpack and very large cleaver.
My interesting and eventful life as a killer had begun. But, I wouldn't kill again until I was fifty. Thirty three years of planning would come in handy for my killing of a seventeen year old boy.
Symbolic? I am seventeen and I just killed victim number one. Now, to begin planning.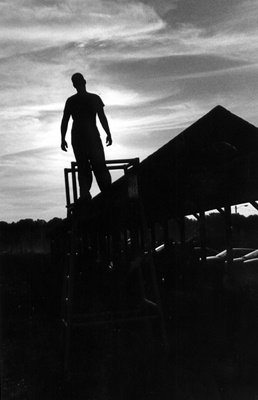 © Brianna L., Marblehead, MA