the 17th (chapter one: Cora Hadley)
January 24, 2010
May 19 1849
she sat in front of the fire that raged behind her. Her black hair was oily purple in the wake of its light. She could not feel the flames or the heat that pulsed through them like a beating heart. Her eyes were closed tight. Maybe if she closed them tighter she could shut them out, shut them out. Her mind was like a glass brain shattered. Pieces fading in and out and her head bulging, crying out in pain. Her limbs felt hollow, not connected. Harrowed bones that did not belong to her, on loan from a different beast entirely. They clamored together as tendrils of flame shot through her. But her skin was not singed in the blaze. It lay milky and cool to the touch, more like water then fire, its spiteful cousin. Tighter and tighter she squeezed her eyes. Shut them out shut them out! And then the end of her yellow lace dress started to curl like a withered rose. And black swallowed the wine colored satin. And she grabbed the necklace from her neck, the fine copper chain snapping as she did, and hurled it as far as she could. They stopped, the voices, It stopped. She cried in joy at the silence in her head as flames engulfed her, yet she felt no pain as she blackened. Instead she welcomed her end, for she had prayed for her misery to end for years and years.
……………………………………………………………………………………………



I jolted up from my sleep. Tears streamed down my face. I had another dream about my great great great aunt Cora Irene Hadley. I was breathing heavy, my black hair glued to my forehead with sweat. I checked the clock. Three in the morning. I tried to get back to sleep but I kept seeing Cora's face being drowned in flame. I got up from the bed and walked softly out towards the long twisty hall. There Cora's Victorian portrait hung. My parents say that she died on her birthday. May 17. That was the day I was born as well. My entire family was devastated, they were the superstitious types. I remember being little and hearing my parents arguing in the kitchen. "What are the odds Mike? That Cora would be born, die and my little Ethel born all on the same date?" "Kathy stop this. A date dose not define her!" Cora died at the age of eleven, much younger then I. I finally stopped in front of the weathered photograph. The most frightening thing of all was that my great aunt Cora Irene Hadley looked exactly like me


she was my mirror image. She had a look of welsh beauty with a small inverted chin and shiny black hair. Family members called it eerie. The same frowning tight line of a mouth and big disk-like eyes with semi-circle brows. I came here often when I woke from nightmares about her. Just to stare at the photograph, so mysterious. There was a lot of mystery around Cora. People say that she died in the St.Louis fire in 1849. They found her burnt up in the center of a field with her hand over her heart. It is said that my great great great grandmother Ethel Hadley, who I am named after, could sense that she was about to die miles away visiting a sick friend. They say that right before Cora died she saw a single raindrop fall into the palm of her hand from a cloudless sky, and she screamed out Cora's name because somehow she knew.
I traced my fingers over the portrait in the dark hallway. "Only a superstition" I said out loud to steady myself. I reached out to touch the portrait again and it was white hot. I screamed and fell back.. when I looked at my hand it was severely burned. Gasping for air I ran back to the room, but not before I looked back at Cora,
she was smiling


I locked the door and examined my hands, trying not to vomit. Bits of white bones were exposed amid mottled flesh, the cusp of which was blackened and charred, flaking off like a crumb cake. However I felt nothing, not the slightest bit of pain. I ran into my parent's room. They were asleep in a billowy mountain of comforters. I shook them with my good hand. "Mom mom mom... I burned myself I don't know how it just happened and look! Look!" I thrust my hand out. "Ethel I don't see anything honey... did you have a nightmare again?" "Mom I'm not five and look at it! Look!" I looked down at it and gasped as I saw nothing but a healthy unburned hand. "Oh lord" I whispered. I ran from their room and into the hall at Cora's portrait. Now cool to the touch, I picked it up and hurled it of the wall down he stairs, hearing the glass smashing off the frame. I tentatively looked down the stairs, half expecting Cora to crawl from her photo. But instead I saw a glint of something amidst the shards of broken glass. A necklace with a copper chain.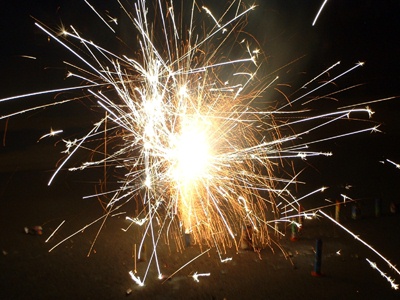 © Kevan B., Beaverton, OR