Lights Will Guide You
November 23, 2009
The adventure started out as a beautiful sunny hike in the lush woods, but soon after lunch, everything seemed to spiral downhill. Around 8:30 p.m. my best friend Samantha and I were less then ecstatic to realize that we didn't know where the hiking trail had led us. The sun no longer peeked through the trees and I began to feel chills run down my spin from the panic that began to sink in. We no longer saw this hike as a happy afternoon and a fresh breath of Sunday air. Now we were trembling together, not knowing which direction to turn, not knowing which way would lead us out of the now dark and eerie woods. After a long 45 minutes my feeling of panic grossly increased. Then, suddenly I spotted a meadow through the mossy trees.

The air became seemingly colder as the minutes kept passing. In the nearby meadow we could hear the piercing noise of the crickets and bullfrogs. It seemed as though they were mocking us for our fears of never finding our way out of the woods. Now the darkness had completely taken over the meadow and so had the feeling of terror. The feeling of vulnerability and fear pumped through my veins harder then ever before. I so desperately wanted to find the way back to the car and feel the warmth of safety like a blanket wrapped tightly around me. I knew it was too dark and I could smell the rain coming. Samantha and I sat on the cold dirt with our backs resting on a firm oak tree. Softly I began to cry. Then, the rain began to mix with my pitiful tears. Though I knew Samantha was sitting right next to me, I felt so alone. I knew we would have to wait till the sun rose and we could make our way back to civilization.

Then, I fell asleep despite the thoughts of wolves and bears that could be lurking in the darkness. I knew as soon as the sun came, we would be safe. The next morning I jumped up and woke Samantha to make our way to our car. Never had I been so thankful to see the beautiful mixture of cool colors that made up the sunset. The bright morning light guided us out of the woods and safely on our way.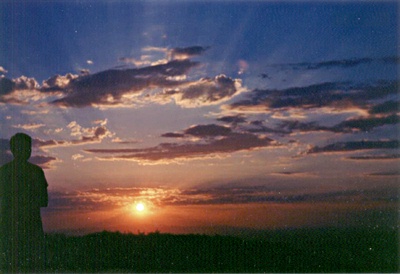 © Jovee B., Dededo, Guam