A Bunny in a Classroom
December 16, 2016

Characters: Alice (Ms. Bunny), Mrs. Blumberg, Kindergarten Students
Setting: Mrs. Blumberg's Classroom
Situation: Alice is an art major in college and is requested by Mrs. Blumberg, a Kindergarten teacher, to come dressed up like a bunny to celebrate Easter as well as do some face-painting on the students. The students will be calling her, "Ms. Bunny."
(Alice walks into the room dressed like a brown bunny and the students begin to awe in astonishment with a few of them giggling.)
Mrs. Blumberg: Alice, thank you so much for being able to come! (Mrs. Blumberg hugs Alice amicably.)
Alice: Of course! It's an honor! (Then, Alice turns and addresses the students.) Hey guys! Are you guys ready for some egg hunting?
Kindergarten Students: Yes, we want candy! (The students all nod in agreement and Alice and Mrs. Blumberg chuckle at their enthusiasm.)
Mrs. Blumberg: Alright, guys! This is Ms. Bunny and she is here to make you guys look just as stunning as she is! (The students begin clapping and Alice takes a deep breath.)
Alice: OK; who here actually wants to look like a bunny? (Several hands rise at the suggestion and she counts the number aloud.) Alright, so only fourteen of ya'll? What about you two? You don't want to look like bunnies? (The two shake their heads and explain briefly that they don't want their faces painted.) Oh, ok! No problem! As for the rest of you, I will pick the first one to raise their hand when I say to and I will start with them and so on, OK?
Mrs. Blumberg: Okay you guys, you heard her! (The students nod and get excited when Alice says to raise their hand.) Oh, Ms. Bunny, the students really appreciate this; thank you so much for doing this!
Alice: Oh, it's no problem! (Alice points to the girl who she thinks raised her hand first and begins to paint whimsically.)
Kindergarten Students: (Alice finally finishes everyone and the students shout with joy at how good they look.) Thank you, Ms. Bunny! (Mrs. Blumberg reiterates what they say genuinely.)
Alice: You guys were awesome and thanks for letting me come and get this experience! Have a wonderful Easter, guys! (The students and Mrs. Blumberg say their goodbyes to Alice and Alice walks out the door.) What have I done with my life…? (Alice shakes her head and continues on.)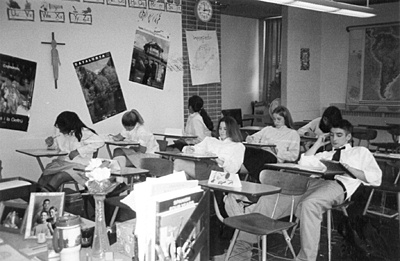 © Fox V., Whitesboro, NY