Siren Song
MAG
November 6, 2015
"You cannot do this to me!" I shrieked as calloused hands groped every inch of my body. "Papa! Papa! Tell them!"
A face I had known and loved for eighteen years broke through the herd of dirty men. It was stone cold and without a trace of kindness.
"Papa …" my quivering voice was almost lost over the sound of waves and the men snickering.
"I have told you time and time again that it is unlucky for women to be aboard a ship, and yet you are here. You have chosen to put our lives in danger. We cannot afford bad luck during our travels, so you must pay for what you've done," he said. It was as though his face was carved from marble, so pale and motionless, even as he spoke.
"NO! NO! STOP!" My screams rippled through the salty air, but there was no one who would heed them.
The disgusting men dragged me to the edge of the ship and forced me to gaze at the waves that would cause my certain death. Every inch of my body was in pain; blood trickled down my knees from being dragged across the floor, a bruise was forming where they had slapped me, and my mouth tasted like blood. Papa was right, I should not have come on this voyage – it was forbidden. But I could not stand another moment of learning how to become a "proper lady." I could not stand that the only fate I could have was to marry a man I did not love and bear children I did not want. I wanted to have adventures, like my father, and not become a sobbing mess like my mother.
A sudden push sent me over the edge, and I hit the water hard. All the air was knocked out of me. I tried my best to swim to the beckoning surface, but the weight of my dress pulled me down. I could feel my life slipping away as I sank to the bottom of the sea.
Just as the world around me became dark, I felt something wrap around my waist. It was warm and felt like human flesh. It pulled off my dress and corset. The external force touched my throat, and I felt a warmth take over my body.
All of a sudden I could breathe again. I opened my eyes and stared into two stunning green eyes belonging to the most beautiful woman I had ever seen in my life.
"Thank you for saving me," I said without thinking twice about the fact that I was communicating with someone underwater.
"Like you, I was thrown off a ship many years ago and was saved by a woman who had survived the same fate. There is a whole community of us who have been mistreated. You are now one of us."
It was at this moment that I noticed my legs had turned into a magnificent fish tail.
Just barely processing what had happened, I swam to the surface and spotted the ship full of monsters. I raced after it, screaming. But what came out of my mouth wasn't a scream. I was singing the most beautiful song I had ever heard.
The men heard me and were mesmerized. One by one they jumped into the water to be closer to my heavenly sound. One by one they drowned. Then there was only one man left, my father. I should have stopped singing, should have been reminded of the fact that I had loved him. But those feelings of love did not exist anymore. I sang louder than I ever had before and watched him jump.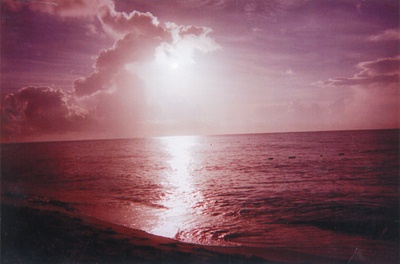 © Angela F., Bonham, TX